Moving is always stressful, but when you have several months to prepare for your relocation, the stress is at a manageable level – you're not pressed for time, so you can research and deliberate, make informed decisions and detailed plans, take proper care of all moving tasks, and ensure a safe and smooth relocation.
f you need to move on short notice, however, the stress skyrockets to extreme highs. There isn't enough time to plan and prepare, so the risk of moving failures (damages, losses, scams, etc.) increases tenfold.
To avoid critical moving mistakes and dreadful moving disasters, you need an effective emergency moving strategy that will help you bring order to the chaos and find quick – and correct – solutions to your moving needs.
Here is how to organize a last minute move so it ends in success:
Do not panic
The worst thing you can do when you find out that you need to move on short notice is to hit the panic button. You have every right – and every reason – to panic, of course, but it will do you no good. Panic fogs the mind and leads to wrong decisions and irrational actions – you need to stay calm and focused in order to manage a successful last-minute relocation.
Do not waste time stressing out about the situation or worrying about the challenges that await you – just take a deep breath, brace yourself, and get down to work straight away.
Take a moment to consider your options
Once you've calmed down, you can start planning your last-minute move.
Your first step is to carefully assess your moving options so you can pick the one that will guarantee the successful outcome of your emergency relocation endeavor.
If you're moving locally and don't have many things to relocate, a DIY move may be a good solution – but only provided that you have reliable friends who will be able (and willing) to help you with packing, loading, and unloading. It will be best if you can borrow a pick-up truck from a friend and transport your items in it, but even if that's not possible, it shouldn't be too difficult to find an emergency moving truck to rent (unless it's peak moving season).
In all other scenarios, performing an emergency move without professional last-minute moving help is not a feasible plan – there simply won't be enough time to complete all the necessary moving preparations, even with friends helping you.
Hire emergency movers
If you have only a few days until you have to move out of your current home, hiring emergency moving services is your best bet – only experienced professionals can pack up your home fast enough and complete your move within the required time limits.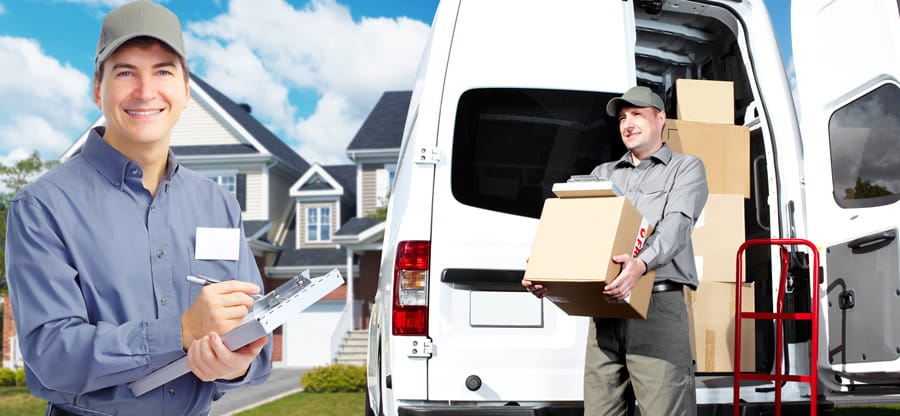 You just need to find full-service movers who will be available for the time of your move – the pros will take care of everything (packing, loading, transportation, unloading, and unpacking) and will ensure your safe and smooth emergency moving experience.
Keep in mind though that you'll likely have to pay a higher price than the standard movers' rates because you're requesting emergency moving assistance at the last minute.
Bonus tip: When pressed for time, you may be tempted to hire the first available last-minute moving company you come across. Doing so, however, is not a good idea – you may end up dealing with rogue movers or incompetent movers who will turn your move into a nightmare. No matter how little time you have, it's crucial to research movers before hiring them – skipping this essential step may cost you a lot of money and nerves.
Organize your time well
The only way to win your race with time when moving in a hurry is to employ smart time management strategies and organize every minute of every hour you have until moving day:
Create a customized moving timeline – list all the tasks that need to be taken care of before your move and set clear deadlines for their completion;
Prioritize your moving tasks to make sure that the more essential ones will be finished on time;
Concentrate on one task at a time – it will help you stay focused and organized;
Keep your focus and don't get sidetracked so you can finish the job quickly and efficiently;
Stick to your schedule.
Move only those of your items that you really need and/or love
Taking all your belongings with you when moving to a new home is never a good idea – even less so when moving on short notice. After all, the more items you decide to relocate, the more time will be required for packing and loading your belongings – and the more difficult and more expensive your move is going to be.
So, you need to purge your belongings and move only the things you really need and love.
Yet, when you have just a few days before your relocation, you won't have the time to properly declutter your home and get rid of unwanted items – you'll have to decide on the spot which items you're going to take with you and just throw out or give away the things you won't be moving to your new home. (There will be no time to organize a moving sale or sell your unneeded possessions online – you'll have to simply discard damaged, worn out, and useless items and give away to charity or friends the things that still have some value in them.)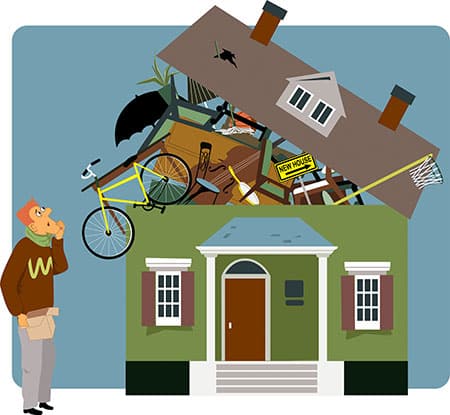 Bonus tips:
Even though you're moving hurry, take the time to create an inventory of the items you're moving to your new home – the inventory list will double as a packing list, will help you keep track of your belongings, and will be needed for an accurate estimate of your moving costs;
Take photos of your items when creating your moving inventory – it will take less time than describing the items in detail and you will have a proof of the condition of your belongings before the move in case some of them get lost or damaged while in the movers' custody.
Pack as quickly as possible
Packing is the most time-consuming part of preparing for a move, so it will be one of your biggest concerns when moving on short notice. It's best to hire professional packers and movers to do the job for you (not only will they be able to pack up your home in record time, but they will also provide your items with the best possible protection), but you can speed up the process, lower your moving costs, and ensure your peace of mind by pre-packing some of your possessions: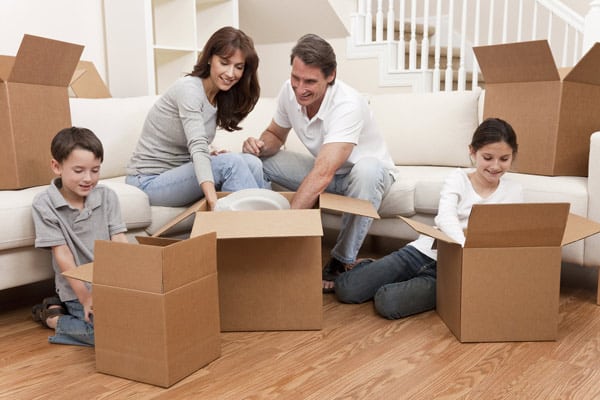 Pack your essentials and your valuables before the movers arrive – documents, jewelry, small items of high sentimental or monetary value, medications, toiletries, personal care items, personal electronics (and their chargers), some clothes and shoes, etc. Pack your valuables with utmost care and make sure they (and your essentials) travel with you;
Pack some easy-to pack-items (clothes, shoes, books, etc.) yourself – the more things you pack yourself, the less work your professional helpers will have on moving day and the faster they will finish the job (and since in most cases you'll be paying for packing by the hour, it will cost you less).
Leave your large household items, fragile items, specialty items, and other difficult-to-pack items to the professionals as you won't have the time to take proper care of them.
If you decide to pack your items without professional help, use the following proven quick packing tips:
Leave lightweight and non-breakable items in their drawers – just take the drawers out of the furniture and cover them with plastic wrap to keep their contents in place;
Leave hanging clothes on their hangers – transfer them into wardrobe boxes as they're (if you have wardrobe boxes) or pull clean garbage bags over the clothes;
Pack soft items in trash bags;
Pack small, non-breakable items in sealable plastic bags;
Use towels and linens as wrapping and cushioning materials;
Use suitcases, bags, hampers, buckets, etc. as packing containers;
Know what items not to pack for moving – hazardous materials, perishable items, and other non-allowable items your movers won't move for safety reasons.
Bonus last minute moving tips
Take several days off work (if applicable) so you can dedicate as much time as possible to your moving preparations.
Do not waste time shopping for groceries and cooking during the last days before your move – order take-outs to free up some extra time.
Arrange for someone (a relative, a friend, a babysitter) to take care of your children and pets during the last several days before your relocation (as well as on moving day itself), so you can focus on your moving tasks.
Consider hiring professional cleaning services to save yourself time and energy and ensure that both your old home and your new one are impeccably clean.
Now that you know how to move on short notice, you can successfully overcome the challenge of emergency moving. Godspeed and good luck with your move!