Long Term Storage Solutions in Maryland, Washington DC and Virginia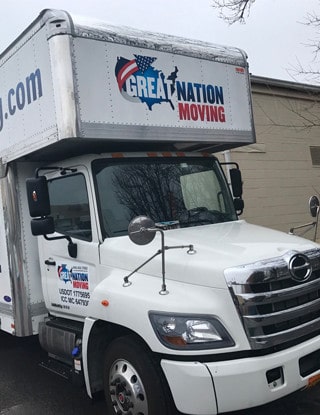 Whether you're moving to a smaller space or just don't have enough room in your home for all the items you don't want to part with, you need an appropriate long-term storage solution – a safe and convenient way to keep your belongings at hand but out of your way.
At Great Nation Moving, we provide safe and affordable long-term storage that will allow you to free space in your home or office (or fit your life into a smaller space) and retain all of your cherished possessions at the same time. Your items will be stored in a clean, secure, and climate-controlled environment and you will be able to access them at any time. Our quality long-term storage services are available in Maryland, Washington DC and Virginia. Get a free, custom storage estimate today – call (800) 403-7552.
Safe and Secure Long Term Storage Units
The type and condition of the storage unit you choose to rent for your long-term storage needs is of paramount importance for the good condition of your items – they will stay in storage for several months, or maybe even for several years, so they need the best possible protection against damage, loss, and depreciation. That's why our facilities are perfect for storage of special, delicate items. Having this in mind, we have designed our long-term storage facilities to ensure maximum safety and provide the optimal conditions for keeping your items in excellent shape.
Our long term storage premises feature:
Climate control – Protecting your belongings from the forces of nature, you can rest assured your household items are safely stored.
Cutting-edge security – Your boxes and furniture are secured in a warehouse to ensure top security.
Vault storage – If you need more space you can easily add more. And if you need less space the following moment, you can move items out and pay for less space.
Adequate insurance – Our insurance is designed to keep your household stuff safe and give you peace of mind.
Private access – We monitor and control access 24/7.
The climate-controlled environment inside our storage vault is perfect for long-term storage – it provides optimum protection against moisture, bacteria, pests, dust and dirt.
Our state-of-the-art security and surveillance systems guarantee safety from theft and vandalism, while our advanced fire-protection equipment greatly reduces the risk of damage to your items during an accident or a natural disaster. You can rest assured that everything will be preserved in the same condition as it was when stored. Moreover, you will get your long-term storage rental at affordable prices. Call us at (800) 403-7552 to get your custom price right now.
What's even better, the same protected secure environment is also available for temporary storage of boxes and furniture and now for motor vehicles as well.

Long Term Storage Costs
Long-term storage prices depend on the volume of the stored items and the duration of the storage period. Needless to say, the bigger storage unit you need and the longer your items stay in storage, the more you will have to pay.
However, you may be able to take advantage of some special offers or discounts (such as free-first-month promotions or long-term storage discounts), so make sure you call us at (800) 403-7552 in order to get an accurate estimate of your long-term storage costs.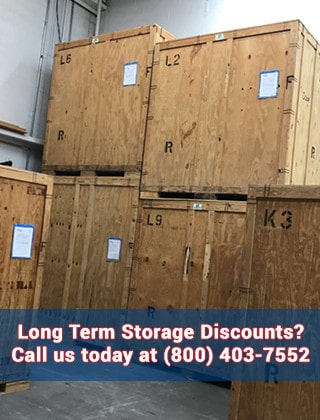 All your items in our storage facilities are insured. Additionally, we monitor and control the storage spaces 24/7, making it virtually impossible to have your items missing or damaged.
Tips for long term storage of boxes, items and furniture
Use clean, sturdy boxes that will ensure good protection to your items. Keep in mind that long-term storage boxes that are similar in size will be easier to stack and access;
Avoid packing items in plastic bags as plastic can trap humidity and result in moisture build-up and/or mold growth;
Clean your items well and make sure they're fully dry before packing them for long-term storage;
Wrap fragile items in bubble wrap and/or packing paper and use plenty of padding and cushioning materials when packing them in boxes;
Fill the boxes tightly (half-empty cartons may collapse when stacked) and seal them well;
Label the boxes as fully and clearly as possible;
Disassemble large furniture to better protect each individual part and to save some space in the rental storage unit. Put small hardware parts (bolts, hinges, etc.) in sealable plastic bags and tape them to the corresponding furniture to prevent losing the small pieces. Cover the furniture pieces with blankets or specialized fabric furniture covers to protect them from dust, dirt, and moisture;
Clean and disinfect household appliances and leave their doors slightly ajar to allow for proper ventilation. Tie down and secure any attached cables and hoses;
Consider placing your items on wooden pallets or shelves to keep them above the ground (this will allow air to flow freely around the boxes and furniture and will help prevent mold growth and other related problems).
One last piece of advice – create a detailed inventory of the items you want to put into long-term storage and prepare them as well as possible in order to ensure their safety and your peace of mind.