Rental of Eco containers
You can rent ecologically-friendly small load containers
Renting is possible for any purposes of let's say long term storage or to use when moving your belongings. The various types of plastic container boxes also provide better protection against damages during transportation.
By the way, you can get your free moving estimate here or go ahead and call us right now at (800) 403-7552. If you are still not sure, simply read our excellent reviews and ratings here.
Generally the usage of one time disposable packaging materials like cardboard boxes and wooden crates or pallets is harmful for the environment.
This is why we also have the option for renting the Eco containers that give you the convenience to safely use them for more than one stage of your residential moving or for more than one stock of items from different locations.
As we know packing and moving can be time-consuming to save yourself all the troubles you can always call us for a quote.
Call now at (800) 403-7552
Be flexible when renting containers
You can either chose to rent our example sets shown on the table below with suggestions based on experience or rent separate extra containers. If you or your moving company would like you can use a smaller set from our suggestions and add your own specific sizes that you need so that you have your own customized set.
Choose the set of eco containers that you need
Just estimate the weeks that you will need and find the suitable set.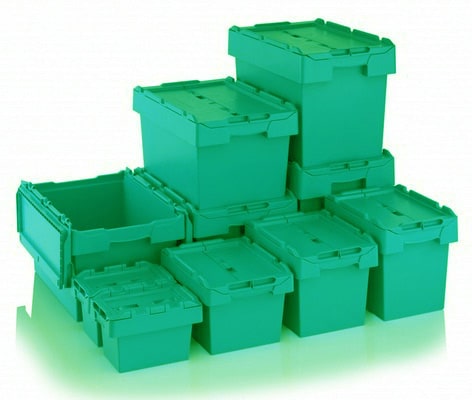 Check if a flat rate would be more convenient
To make things easier for those of you who do not have the exact dates already planned – we have the option to charge a flat rate, regardless of the exact time needed (within a certain maximum period).
Some customers prefer this for the longer periods of storage so that they have a better estimate about their costs.
Make the best possible timing estimations
Please note that for any remaining days of a flat rate period that has already started, there will be no refunds if you do not need to use the containers for the whole period. For renting the sets on fixed period fees as seen in the table we offer free delivery and pickup of the empty containers.
Any different orders for the Maryland, DC and Virginia, deliveries are charged at a $32 fixed fee (or at a special rate upon a quote for outside these three states). Minimum order amount including the delivery fee is $83. For smaller sets, single containers or for any special requests or inquiries please give us a call.
Call us at (800) 403-7552.
Usual periods for rental of eco containers used by most customers
Set for one bedroom: 12 days
Set for two bedrooms: 19 days
Set for three bedrooms: 20 days
Four bedroom set: 24 days
| Number of rooms | Set of equipment needed | Up to 1 Week | Up to 2 Weeks | Up to 3 Weeks | Up to 4 Weeks | Flat rate |
| --- | --- | --- | --- | --- | --- | --- |
| Bedroom and Kitchen | 25 Eco Containers (20 Large and 5 Small), 1 Glass Kit, 1 Dish Kit, 2 Dollies, FREE Delivery and Pickup, FREE zip ties, FREE labels, Flat Rate Price is for up to 4 weeks* | $104.00 | $155.50 | $236.50 | $258.50 | $209.00 |
| Studio and a bedroom | 25 Eco Containers (20 Large and 5 Small), 1 Dolly, FREE Delivery and Pickup, FREE zip ties, FREE labels, Flat Rate Price is for up to 4 weeks | $83.00 | $124.00 | $188.50 | $206.00 | $167.00 |
| Two bedrooms and a Kitchen | 35 Eco Containers (30 Large and 5 Small), 2 Glass Kits, 2 Dish Kits, 3 Dollies, FREE Delivery and Pickup, FREE zip ties, FREE labels, Flat Rate Price is for up to 6 weeks* | $135.50 | $197.50 | $296.50 | $321.50 | $314.00 |
| Two bedrooms | 35 Eco Containers (30 Large and 5 Small), 2 Dollies, FREE Delivery and Pickup, FREE zip ties, FREE labels, Flat Rate Price is for up to 6 weeks* | $104.00 | $155.50 | $236.50 | $258.50 | $261.50 |
| Three bedrooms and a Kitchen | 50 Eco Containers (40 Large and 10 Small), 3 Glass Kits, 3 Dish Kits, 4 Dollies, FREE Delivery and Pickup, FREE zip ties, FREE labels, Flat Rate Price is for up to 8 weeks* | $177.50 | $260.50 | $392.50 | $426.50 | $524.00 |
| Three Bedroom set | 50 Eco Containers (40 Large and 10 Small), 3 Dollies, FREE Delivery and Pickup, FREE zip ties, FREE labels, Flat Rate Price is for up to 8 weeks* | $135.50 | $197.50 | $296.50 | $321.50 | $419.00 |
| Four Bedrooms and a Kitchen | 70 Eco Containers (60 Large and 10 Small), 4 Glass Kits, 4 Dish Kits, 6 Dollies, FREE Delivery and Pickup, FREE zip ties, FREE labels, Flat Rate Price is for up to 8 weeks* | $209.00 | $313.00 | $476.50 | $521.00 | $629.00 |
| Four bedroom set | 70 Eco Containers (60 Large and 10 Small), 4 Dollies, FREE Delivery and Pickup, FREE zip ties, FREE labels, Flat Rate Price is for up to 8 weeks* | $177.50 | $260.50 | $392.50 | $426.50 | $524.00 |
| Kids, extra fee (As kids have a lot of separate items) | 5 Large Eco Containers, FREE zip ties, FREE labels | $10.50 | $16.00 | $24.00 | $26.50 | Call for a quote |
| Library, extra fee (Because books need extra care) | 5 Small Eco Containers, FREE zip ties, FREE labels | $10.50 | $16.00 | $24.00 | $26.50 | Call for a quote |
---
| Dimensions | 1 week | 2 weeks | 3 weeks | 4 weeks |
| --- | --- | --- | --- | --- |
| Eco container – Environmentally Friendly Plastic Box in three sizes, but only one price! Large (27×17″x12″ – 3.19 cubic feet); Square (24″x20″x12″ – 3.33 cubic feet); and Small (21 5/8″x15 1/2″x12″ – 2.33 cubic feet). Large and Square Boxes are perfect for most of your stuff. Small Boxes are great for heavy or fragile items. | $2.20 | $3.30 | $4.00 | $5.50 |
| Extra large containers (28″x20″x12″ – 4.86 cubic feet) for extra large or bulky items | $3.30 | $5.00 | $7.00 | $8.50 |
| Wardrobe container – Corrugated Plastic Box equipped with a metal bar that stretches across the width of the wardrobe box. It is suitable for hanging clothing. One wardrobe is recommended for every two feet of closet space. 24×21″x48″ | $8.50 | $15.00 | $22.20 | $29.50 |
| Dolly – Easy to use dollies fit our boxes perfectly! Dollies are available for Large and Square box sizes | $5.50 | $11.00 | $16.00 | $21.00 |
| Eco Container Glass Set – Transport up to 15 glasses per Large Box with our reusable plastic glass dividers. Cells measure 3.7″ L x 3.7″ W x 10.8″ H. Remove or move dividers to create custom spaces for larger items. We recommend you use bubble wrap and paper for protection and cushioning (purchase separately). Glass kit includes one Large box and one set of inserts. | $6.50 | $9.50 | $13.00 | $16.00 |
| Eco Container Dish Kit – Transport up to 16 dishes per Large Box with our reusable plastic dish dividers. Cells measure 11.8 L x 1.1″ W x 10.8″ H. This set is designed to fit dishes up to 10.5″. Remove or move dividers to create custom spaces for larger items. We recommend you use foam sleeves and bubble wrap and paper for protection and cushioning (purchase separately). Dish kit includes one Large box and one set of inserts. | $6.50 | $9.50 | $13.00 | $16.00 |
| Moving Blanket – 72″x80″ deluxe moving blankets help protect furniture and other large or bulky items from damage during your move | $3.30 | $6.50 | $9.50 | $13.00 |
| Bubble Wrap – Protect your valuables with bubble wrap. 50′ with perforations every 12″ | $9.50 | | | |
| Packing Paper Roll – 100 feet of environmentally friendly recycled packing paper | $10.50 | | | |
| Foam Dish Pockets – Protect fragile items from being scratched or chipped during transport. 12″ x 15″ pockets. | $1.10 | | | |
| Security Ties – Use our security ties to keep your boxes locked during your move. | Free | | | |
| Labels – Removable labels make identifying the contents of your box easy. | Free | | | |