Special Items Storage Solutions
Under some specific circumstances you may need to store an item that requires special care – an antique or a piece of art may not suit your current home décor, rarely used specialized equipment may occupy too much space, sensitive electronics may be at risk during a renovation project, etc.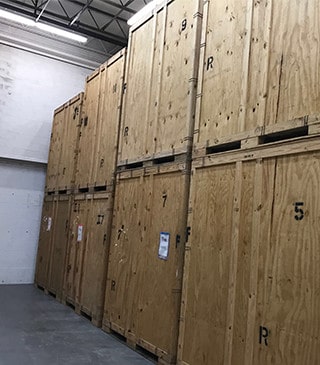 Whatever your reason for placing a special item into storage, you need to find a properly equipped facility where your treasured possession will be kept safe and under appropriate conditions. Fortunately, we are experts at handling such items, give us a call at (800) 403-7552 to get a price estimate.
At Great Nation Moving, we can provide the perfect solution for any special storage needs – our specialized facilities provide optimal storage conditions for all kinds of delicate, sensitive, or precious items that need individual attention and care. See more about our secure short-term storage units, the safe and convenient long-term storage solutions and storage of cars and other vehicles.
Specialized Storage Facilities
Our climate-controlled indoor storage units are perfect for storing delicate items that are sensitive to temperature fluctuations and/or humidity and need protection from the outside elements.
The climate-controlled environment guarantees a constant indoor temperature and a consistent humidity level;
The clean, well-kept storage units help preserve the pristine condition of the stored items;
The advanced fire-protection system reduces the risk of smoke and/or fire damage;
The modern security and surveillance system prevents theft and unauthorized access to the stored goods;
The shelving (wooden pallets, racks, etc.) inside the storage units prevents the risk of crushing and/or superficial damage that can be caused when delicate items are stacked over one another;
Our experienced workers have the specialized equipment and professional know-how to handle all kinds of delicate items with utmost safety and efficiency.
So, whether it comes to family heirlooms, irreplaceable collectibles, expensive artwork, or any other special items of high practical, sentimental or aesthetic value, your treasured belongings will be kept safe and unscathed in our specialized storage facilities.
Call (800) 403-7552 – we are available to answer all questions you may have.

Items That Require Special Storage Conditions
Some delicate items require special care and need climate-controlled storage in order to remain in good condition over a prolonged period of time:
Wooden furniture – when exposed to excessive moisture or extremely high temperatures, wood can crack, warp, or rot;
Leather furniture – high temperatures can cause leather to crack or fade while moisture can discolor the upholstery and result in mold growth;
Antique furniture – exquisite old pieces are very vulnerable to damage and need optimal ambient conditions in order to remain intact;
Artwork – art pieces are very delicate and, more often than not, awkwardly shaped. They are sensitive to pressure and highly susceptible to moisture and temperature swings;
Electronics – sensitive electronic devices can be irreversibly damaged by extreme temperatures and high humidity ;
Musical instruments – scorching heat, severe cold, and high humidity can completely ruin a delicate musical instrument – they can cause strings to snap, wood to expand or contract, felt or rubber to break down, etc.;
Fine clothing, old books, valuable metal pieces and any other goods that can be damaged by extreme temperatures and high humidity.
Have in mind, however, that corrosive, flammable or explosive materials, hazardous substances, perishable goods, valuables, plants, and live animals cannot be kept in storage.
Cost Of Special Items Storage
The cost for storing a special item depends on its specific storage requirements. Call Great Nation Moving at (800) 403-7552 or fill in our free quote to get an estimate of your storage costs and learn more about our specialized storage services in Maryland, DC and Virginia.