Secure Short Term Storage Units
Whether you're renovating your home, moving to temporary housing or unable to receive your goods as your new house or apartment is not ready yet, you're going to need a safe place where to store your items until you can take them back. Under all such circumstances, short-term storage is your best bet – your belongings will be kept in a secure environment, protected from adverse weather conditions and unauthorized access.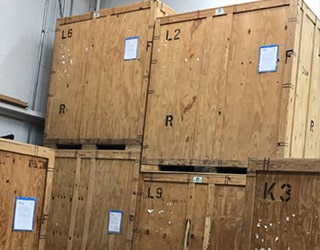 At Great Nation Moving, we offer efficient short-term storage solutions that can suit any temporary storage needs and requirements – effectively designed short-term storage units in excellent condition, maximum security, and quality customer service. Our special service storage-in-transit is, without a doubt, the most convenient option for home movers who need to have their items stored away for a short period of time while pending further transportation. To get a custom quote for free, please call us at (800) 403-7552 – no strings attached.
Short Term Storage Units
Our warehouse facilities are designed to provide premium short-term storage options for your belongings. We offer:
Sturdy, well-kept indoor storage units of different sizes;
A climate-controlled environment that ensures effective protection against the outside elements (extreme temperatures, temperature fluctuations, moisture, mold growth, dust and dirt, etc.);
Utmost security – storage vault system, surveillance system, fire-protection system, strong fence, security gates, heavy duty locks;
Insurance against theft and/or damage;
Easy and convenient access to your stored belongings.
Call us today at (800) 403-7552 to learn more!
Whether you need to store household furniture, sensitive electronics, high-value equipment, delicate artwork, or treasured collectibles, you can rest assured that your cherished possessions will be kept safe and secure in our modern, properly equipped and skillfully managed storage facilities. Our experienced moving and storage professionals will handle every item with utmost care, will keep your goods safe and unscathed, and will deliver them to your home when you're ready to accept them. So even if you have sensitive special items for storage, you can count on us to keep them safe and protected.
Our new services also include indoor storage for cars and other vehicles. We also provide even safer packaging with rented reusable eco-friendly containers. These protect your items from mechanical damages even better than cardboard.
You can keep your belongings in our rental storage units for a few weeks or for several months, depending on your needs. Either way, you're certain to get quality short-term storage services at affordable prices. If you need to store your household items for a longer period of time, check out our safe long-term storage solutions.

Cost Of Short Term Storage
Our affordable storage units provide a convenient and cost-effective storage solution for customers in Maryland, DC and Virginia. Regardless of the cheap and flexible storage unit rates, however, the actual cost of short-term storage depends on two major factors:
The size of the rented storage unit;
The period of time for which the goods will be kept in storage.
So, if you're wondering "How much do storage units cost?", you need to make a detailed inventory of the items you want to put into storage (their number, type, size, shape, weight, current condition, specific requirements, etc.), decide on the right size of storage unit you need (make sure there is enough space to accommodate all your stuff, but do everything possible to optimize the available space as well), and define the time period for which your items will stay in storage. Then, fill in our free quote to get an accurate price estimate for your short-term storage costs and book Great Nation Moving's reliable storage services. Your items will be in good hands! Get a price estimate for your storage needs – call (800) 403-7552.
Moving And Temporary Storage
The best part is that if you choose Great Nation Moving for your relocation and storage needs, you can have both moving and storage services provided by the same trusted professionals as we are a fully bonded, properly insured, and reliable moving company with rich experience in handling, storing and delivering all kinds of household goods.