Fully Bonded and Insured Moving Company to Alaska
Highly Qualified Movers to Alaska, Fully Bonded and Insured
Moving house often feels like riding an emotional roller-coaster – stress, anxiety, and excitement replace each other in quick succession and leave you overwhelmed and deeply confused. This is especially true when moving to Alaska – the largest and most enigmatic state in the U.S. Moving to the Last Frontier is a relocation adventure like no other and you're going to need plenty of courage and foresight, as well as experienced professional help, in order to emerge victorious from it.
By the way, you can get your free moving estimate here or go ahead and call us right now at (800) 403-7552. If you are still not sure, simply read our excellent reviews and ratings here.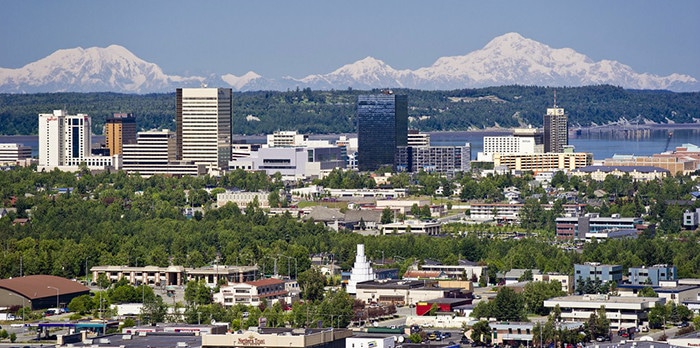 Hiring competent Alaska movers is your best chance of success, as the skillful professionals will have the specialized equipment and expert knowledge required to perform a smooth and trouble-free relocation to the northernmost American state. At Great Nation Moving, we are fully equipped and prepared to handle your specific relocation needs and ensure a flawless and stress-free moving experience.
Fully Accredited and Widely Recognized Alaska Movers
Great Nation Moving is a highly qualified and properly licensed moving company, certified to perform all kinds of local and long distance moving services within the U.S. We are fully bonded and insured, fully accredited and widely recognized for our excellent customer service.
Our staff is well trained and vastly experienced in packing, loading, transporting and delivering all types of household goods, even in highly unfavorable conditions. What's more, we have advanced moving and storage equipment, suitable for the harsh surroundings in the Last Frontier- a large fleet of vehicles modified to handle the challenges of the Alaskan environment, specialized loading containers, car containers, climate-controlled storage units, etc.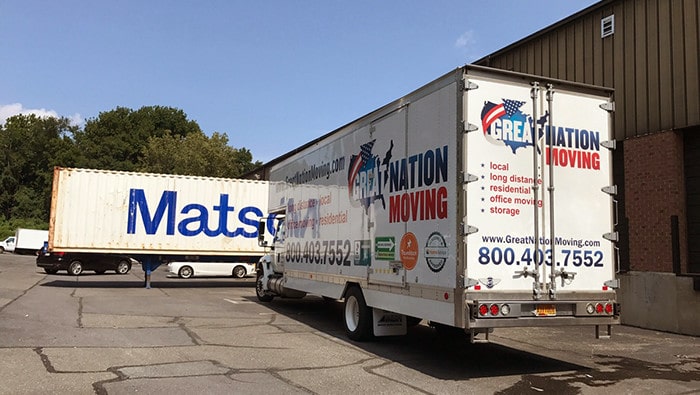 Moving to Alaska will be safe and easy with Great Nation Moving. We'll take care of every aspect of the arduous relocation process and will deliver your goods safe and intact to your final destination:
We provide high-quality services and strive to find the best possible solution in every situation and under any circumstances;
We handle all household goods and personal belongings with care, efficiency, and professionalism;
We use the latest techniques in logistics to save time and money when moving you to your new home;
We give accurate price estimates and notify our customers about the costs of any necessitated or desirable additional services – short or long-term storage, packing and unpacking services, fragile items protection, insurance coverage and special conditions like stairs or long distance between the front door and the nearest available parking place for the moving truck. This way you have full control over your moving expenses and don't need to worry about hidden fees and extra charges;
We provide coverage against losses or damages and offer full value protection to make you feel comfortable and safe.
Preparation before moving to Alaska
Whether you're moving to Anchorage, Juneau, Fairbanks, Ketchikan or any other smaller city in Alaska (even ones that are not connected to the North American road network), you can rest assured that Great Nation Moving will do a good job and perform your move in the safest, cheapest, and most convenient way possible.
Keep in mind, though, that you need to be properly prepared – after all, moving to Alaska is not a walk in the park. Make sure you:
Buy any furniture, appliances, equipment, and other necessary items (from clothing to a snow blower!) before your move. You'll have a greater choice in your current area and the price of these items will be much lower than in Alaska. Moving these things to your new home in the northern state will cost you considerably less than buying them there;
Pack your belongings with utmost care as they will be travelling a great distance and may be subject to adverse weather conditions, traffic accidents, or other misfortunes. Fragile items and valuables, in particular, need to be safely padded and well protected from the added bumps in the road;
Provide adequate protection to your more delicate and sensitive belongings against the cold weather (your items are likely to experience some extremely low temperatures during the relocation). Your best bet is to find a reliable Alaska moving company – such as Great Nation Moving – that is able to maintain a consistent temperature in the place where your belongings are kept (whether that be the trailer or a storage unit);
Provide appropriate moving insurance to your cherished possessions;
Find the best Alaska movers for you.
When looking for trustworthy and affordable Alaska movers, you'll find that Great Nation Moving offers the highest quality services at the most reasonable prices. Just fill in our free moving quote and you'll be immediately convinced that we provide the most efficient and cost-effective solution to your relocation needs – combined with professional attitude and genuine care for your move. Contact us and ensure the success of your Alaskan relocation adventure!