Trustworthy Movers in Alexandria, VA

Moving is a hectic endeavor but professional movers can make it streamlined and simple. The experts have the specialized equipment and technical know-how to perform a relocation in a safe and efficient manner. What's more important, though, is that they have the rich experience and masterful skill to handle all kinds of items and overcome all kinds of challenges involved in a house move.
By the way, you can get your free moving estimate here or go ahead and call us right now at (800) 403-7552. If you are still not sure, simply read our excellent reviews and ratings here.
It's no wonder then that Great Nation Moving is often considered the best moving company in Alexandria, VA – with our extensive experience, state-of-the-art moving equipment, and highly-trained moving crews, we provide unmatched moving service at unbeatable price.
Great Nation Moving is a BBB-accredited, licensed and insured moving company you can trust to take good care of your move and provide you with a smooth and stress-free relocation experience. We place quality, reliability, and fair pricing at the top of our priority list and strive for perfection in our work. Our efficient, dependable moving services have earned us countless of 5-star reviews from satisfied customers and several awards for excellence in the moving industry.
So, when moving to or from Alexandria, VA, or anywhere within the area, you'll find a reliable relocation partner in Great Nation Moving.
Trusted Local Movers in Alexandria, VA
Whether you're moving just around the corner or to another town or city in the area, Great Nation Moving will take you there without any hassle. Our approach is simple – we arrive on time, protect your home and your belongings, load the moving truck quickly and efficiently, and deliver your shipment to your new address in a safe and timely manner:
Our Alexandria movers are well-trained and highly experienced, so they can provide the best solutions for your moving needs;
Our local moving trucks come fully equipped with modern loading equipment and safety devices, so we can ensure the safety of your belongings during loading, transportation, and unloading. We also provide free floor and house protection for each Alexandria move.
Call us at (800) 403-7552 to discuss your next local move in Alexandria, VA, with our moving specialists and guarantee your successful relocation experience.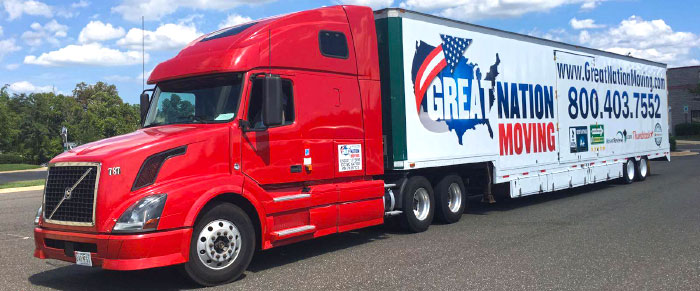 Affordable Long-Distance Moving Services in Alexandria, VA
If you're preparing to move out of state and looking for professional movers in Alexandria, VA, Great Nation Moving is the company to call – we offer reliable and affordable long-distance moving services that will take the stress out of your interstate relocation and make it a breeze.
You won't even need to lift a finger throughout the entire relocation process – we'll do all the work for you and will ensure the success of your long-distance move from Alexandria, VA, to wherever in the country you're going to (or the other way around). Our seasoned, knowledgeable movers will treat your belongings as carefully as if they were their own and will see to it that every item arrives at your new home in the same condition as it was before the move.
Just fill in our free moving quote and rest assured that your move will be in the hands of one of the best long-distance moving companies in Alexandria, VA.
Dependable Office Movers in Alexandria, VA
When moving your business to or from Alexandria, VA, you can count on Great Nation Moving once again. Our prompt and dependable commercial moving services will allow you to stay focused on your business while our experienced office movers handle the logistics and heavy lifting, ensuring a safe and efficient relocation. Even a large corporate relocation is not too much of a challenge – we can meet your commercial moving needs, big or small.
Fill out our online quote form to get a free estimate for your office move in Alexandria, VA, and leave the rest to us – you'll be glad you chose to work with Great Nation Moving.
Packing and Unpacking Services in Alexandria, VA
When packing for a move, it may be a good idea to leave your more delicate and valuable items to the pros – they have the specialized packing supplies, expert knowledge, and rich experience to provide the best possible protection to your belongings. You may even want to hire professional packers to do the entire job for you – they will complete the task in a quick and efficient manner, saving you lots of time, effort, and nerves and reducing the risk of damage to your belongings.
Great Nation Moving provides quality packing and unpacking services in Alexandria, VA, to ensure your peace of mind and free up your time so you can focus on other important relocation tasks. You can request full packing services, partial packing services, packing of specialty items, custom crating services, and/or unpacking – it's up to you to decide how much or how little packing help you need. Either way, we'll handle your items with utmost care and attention and will ensure that they arrive intact and unscathed in your new home.
Contact us at (800) 403-7552 to discuss your packing needs with our relocation express and see what we have to offer. You're sure to find our packing services worth the affordable cost.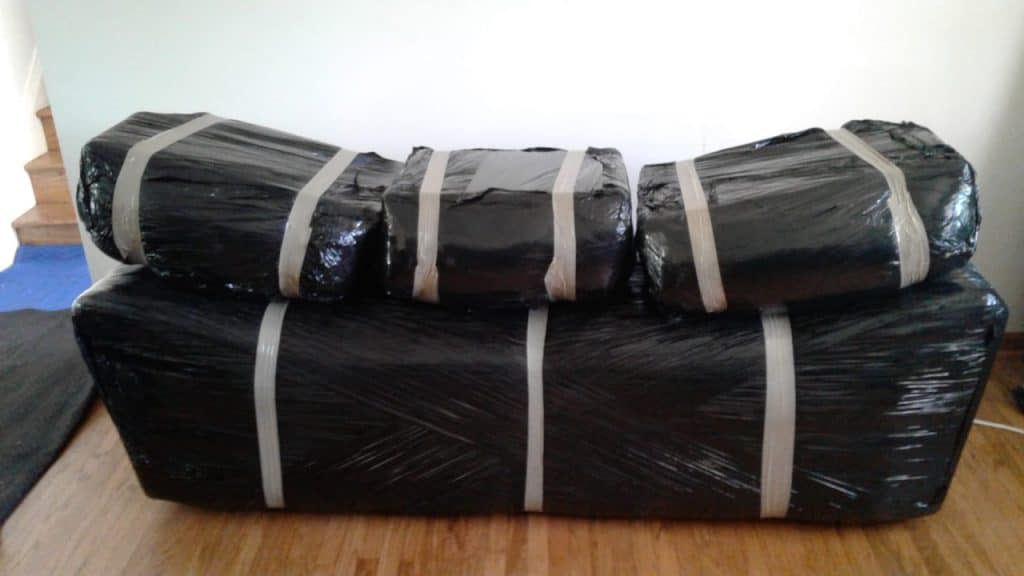 Beneficial Storage Services in Alexandria, VA
If you need to store your items away, Great Nation Moving is here for you – we provide flexible storage solutions at affordable prices. You can choose from secure short-term storage units, convenient long-term storage options, and special storage solutions for delicate items. As one of the most trusted Alexandria moving companies, we provide 24-hour security and climate control, so your belongings will stay safe and sound at all times. When you're ready to collect your goods, all you have to do is give us a call and your items will be delivered to your home in a safe and timely manner.
Call us at (800) 403-7552 for more information about our flexible and affordable storage services in Alexandria, VA, and rest assured that your storage needs will be well taken care of.
Reliable Last-Minute Movers in Alexandria, VA
Even if you need to move out on a short notice or require same day movers, Great Nation Moving can still assist – our highly-trained, hard-working last-minute movers can handle all types of emergency relocation scenarios, no matter the obstacles and special requirements. We offer quality service and affordable price even at the last moment.
Give us a ring at (800) 403-7552 for our reliable last-minute moving services in Alexandria, VA, and we'll take you from point A to point B in the blink of an eye.
Experienced Car Movers in Alexandria, VA
Great Nation Moving has earned wide renown as a reputable and trustworthy auto transportation company. We offer open car transport, enclosed car shipping, and door-to-door auto shipping, so you can count on us to perfectly meet your car shipping needs.
When looking for safe and secure car moving throughout the country, all you need to do us fill out our online moving quote form – you'll get the best vehicle transportation services in Alexandria, VA, at the best possible price.
Skilled Piano Movers in Alexandria, VA
Piano moving requires skill, experience, and strength – in other words, it requires experts like Great Nation Moving. We have the specialized equipment and professional know-how to deliver your delicate musical instrument safe and intact to your new address. Our careful, skillful piano movers have rich experience with all kinds of pianos – from upright pianos and concert grands to spinets and baby grand pianos. With Great Nation Moving, your piano will be in good hands.
Fill in our online moving quote to book our reliable piano moving services in Alexandria, VA, and ensure the safety of your piano during the relocation process.
At Great Nation Moving, we put professionalism and customer satisfaction above all else – that's why we have earned the trust of thousands of people in Virginia, DC, and Maryland and rank among the best movers in Alexandria. We care about your move!