Packing for moving is always difficult, but some things are much more difficult to pack than others.
Packing clothes, shoes, books, linens, and other non-breakable items may be a tedious task but it is a relatively easy one as the risk of damage to these things is very small and they don't require any special packing care.
Breakables, on the other hand, are very prone to damage and need utmost protection during the move.
There are a lot of fragile in a home – from chinaware and glassware through electronics and artwork to musical instruments and lamps – and each of them needs to be protected as best as possible in order to survive the move in one piece.
Packing fragile items for moving is, therefore, quite a challenge. You need to be extremely careful and to use quality packing materials and proven packing techniques in order to ensure the safety of your breakables during the relocation.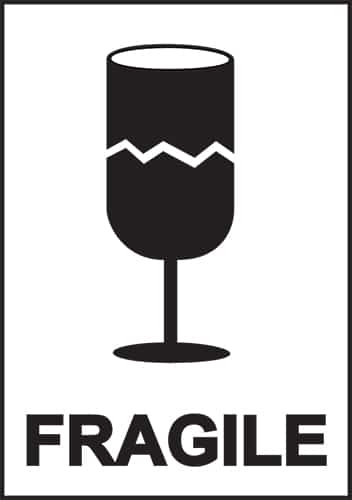 Read on to find out how to pack fragile items for moving so they reach your new home intact and unscathed.
Decide which of your fragile items are worth moving to your new home
You will definitely take your expensive electronics and vintage crystal glasses with you when moving house, but relocating the big old mirror hanging on your bedroom wall, for example, may not be worth the effort.
So, before you get to the actual packing job, go over all the breakables in your home and decide which of them you really want to take with you – valuable items, practical items you use on a daily basis, items that have a special meaning to you, etc.
Once you have made up your mind, create a detailed inventory of the fragile items you will be moving to your new home and take pictures of each one so you have proof of their condition before the move.
Get the right packing supplies
It may be tempting to save on packing expenses by getting used boxes for free and using old towels and newspapers instead of bubble wrap and packing paper, but you should never skimp on packing materials when it comes to breakables.
Your fragile items need the best possible protection during the move, so you need to use quality packing materials when preparing them for shipping – sturdy cardboard boxes, soft packing paper, and plenty of bubble wrap and packing tape. It is a good idea to invest in anti-static packing peanuts and corrugated dividers as well – and even in custom-made wooden crates if you're moving extremely valuable fragile items (such as antiques or artwork).
Prepare the boxes
Your first task when packing fragile items for moving is to prepare the boxes:
Choose strong, small to medium-sized boxes for your breakables – It is not a good idea to pack fragile items in large boxes:
Packing a lot of breakables in the same box increases the risk of damage to the items – they may bump into one another during the move and break from the impact;
Fragile items tend to be heavy, so if you pack a large box full of breakables, it will become extremely weighty and, therefore, very difficult to lift and carry – which will increase the risk of accidents and damages. Besides, a very heavy box might break under its own weight – in which case all the fragile items in it will break as well.
Consider using specialized dish boxes (dish packs) for your more expensive chinaware and boxes with cardboard dividers for your glasses.
2. Reinforce the boxes – Use quality packing tape to reinforce the bottom, edges, and corners of each moving box that will hold fragile items.
3. Line the bottom of every box with crumpled paper, bubble wrap, or old towels to create a protective layer for your breakables.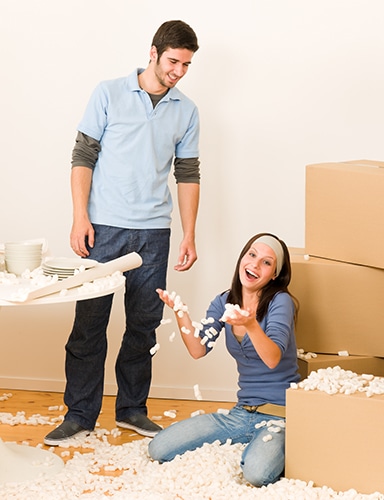 Wrap your fragile items in protective materials
Once the packing containers are ready, you need to prepare your breakables for packing as well:
Fill glasses, cups, and bowls with crumpled paper and carefully wrap any stems in bubble wrap;
Protect any screens or flat glass surfaces with cardboard pieces (secure the protective coverings in place with masking tape). It is a good idea to tape a big X over the glass first (use two pieces of masking tape) to prevent it from shattering if it breaks during the move;
Pad the corners of framed pictures, mirrors, flat screen TVs, glass tabletops, glass doors, etc. – use foam padding or fold pieces of cardboard around the corners;
Wrap any protruding parts in bubble wrap;
Wrap each fragile item individually in soft, clean packing paper. (Never use newsprint as the ink may leave ugly, hard-to-remove stains on some more delicate surfaces!);
Add a second protective layer of bubble wrap over the packing paper to provide topmost protection to your breakables;
Secure the protective wrappings with tape. (Make sure you never use packing tape directly on delicate surfaces – the tape can leave a sticky residue behind when you remove it after the move.)
Put your fragile items into the boxes
Having prepared the packing boxes and wrapped your breakables as safely as possible, it's time to place the fragile items in the moving containers:
Place plates standing on their edges, not flat;
Place glasses and cups upright, with their openings facing downward. Use corrugated dividers to prevent them from coming in contact with one another during the move;
Pack pictures and mirrors vertically;
Pack electronics in their original boxes (if you keep them);
Consider packing your most valuable breakables into wooden crates, custom made to perfectly fit the items that will be transported in them;
If an item is too big to be packed in a box, wrap it in moving blankets. (Secure the blankets in place with packing tape or stretch wrap.)
Add plenty of padding to the boxes
One of the most important things to remember when moving fragile items is that sufficient padding is the key to their safety.
So, while packing a box with breakables, be sure to provide plenty of cushioning between the individual items in the carton – so they don't accidentally bump into each other during the transportation.
Once your fragile items are inside their boxes, fill in any remaining empty spaces with cushioning materials (crumpled paper, pieces of bubble wrap, packing peanuts, foam padding, etc. – even old towels and clothes will do) to prevent the packed items from shifting during transit. Make sure there is sufficient padding over the packed breakables as well.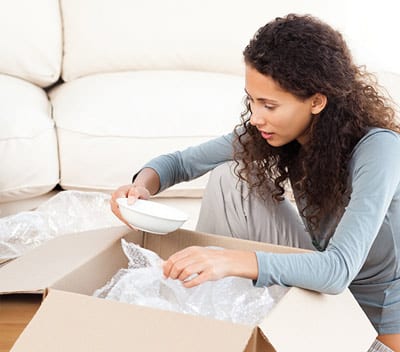 Close the box and shake it slightly to make sure that nothing moves inside it (if you detect any movement, open the box and add more cushioning).
Seal the box tightly with packing tape.
Label the boxes
The last step when packing fragile items for moving is to label the boxes with their contents (WINE GLASSES), destination room (DINING ROOM), and any necessary handling instructions.
Write "FRAGILE" and "HANDLE WITH CARE" in big black or red letters on at least three sides of the boxes and indicate which side is up.
Even though proper labeling cannot really guarantee the safety of your breakables, it definitely increases the chances of finding your fragile belongings intact when taking them out of the boxes in your new home.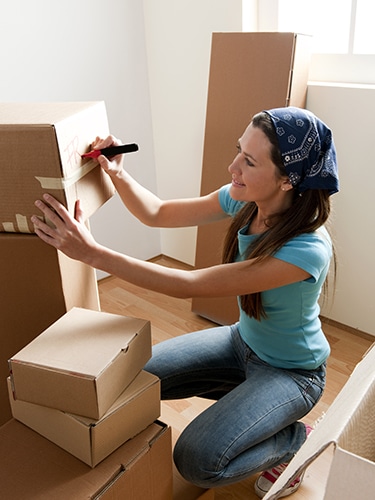 To sum it all up – the best way to pack fragile items for moving is to wrap them individually in packing paper and bubble wrap, arrange them carefully in strong, well-padded moving boxes, and provide plenty of cushioning.
Knowing how to pack breakables in a safe and efficient way will greatly reduce the risk to your fragile items during the move. Yet, it is worth considering having your delicate belongings professionally packed – especially extremely valuable items (such as artwork and antiques), extremely sensitive items (such as a piano or a plasma TV), and extremely difficult to pack items (such as a chandelier or a grandfather's clock). Professional packers and movers have the specialized equipment, expert skills, and rich experience to pack and move your fragile items in the safest way possible. Don't hesitate to hire their services and ensure your smooth and trouble-free relocation experience!
If you want additional help, you can call us at (800) 403-7552 or fill our form for moving.