There are so many things to do when moving house that it's easy to get confused about which task to complete first. One quick glance at a detailed moving checklist is enough to cause a panic attack – how are you supposed to finish all those move-related jobs before the day of the move?
Luckily, the tasks in a good moving timeline will have a priority status attached to them, meaning that you should know which super-important jobs you are supposed to finish first and which ones you can leave for later simply because they are not so crucial for the success of the relocation project.
Without a doubt, packing is the most important thing you should do when getting ready to move out. After all, you do want all your belongings to reach the new place perfectly intact – that is, in the same condition they were before the move.
If you want to be 100% certain and insured that your items will be in perfect condition, simple learn more about GreatNationMoving's packing services here and get a price estimate.
So, you should start packing up your things as soon as possible. However, here comes the next logical question: what to pack first when moving? Where to start packing for a move?
Read on to learn what you should pack first when moving to another home.
Which rooms to pack first when moving
What you do know for sure is that you have to start packing ASAP simply because packing for a move is the most time-consuming task of them all – it begins as soon as the move is confirmed and lasts all the way until Moving day itself.
Keep in mind that initiating the packing process from the wrong rooms can cause you to lose a lot of valuable time – something that you should avoid at all costs. A successful house move often comes down to good time management so you must know where to start packing for maximum efficiency.
First of all, you should always start packing from the rooms you use less frequently.
Why?
It's simple, really – you'll want to leave the rooms you use all the time for last because eating (the kitchen) or sleeping (the bedroom) surrounded by huge piles of cardboard boxes is no fun at all. So, do consider packing up the premises you use the least frequently – for example, all storage areas and spare (guest) rooms, if applicable.
And secondly, you should begin to box up your possessions from the rooms that are the hardest to sort and pack.
Why?
It's always a good idea to tackle the most difficult rooms while you still have enough energy and motivation to do so. This way, as you get more and more exhausted and demotivated with each passing day spent in packing, you'll be left with the easiest premises to pack up right before Move day arrives.
So, what room to pack first when moving? Follow this order when packing:
Storage rooms
Spare rooms
Kitchen
Living room
Bedroom
Bathroom
Let's get into detail for every room to find out why.
Storage rooms
The very first rooms you should pack in your home are the storage areas such as garage, basement, attic, and closets. Those storage rooms will contain all kinds of things and that's why the sorting process alone will take plenty of time. It's very likely that you find there things you have completely forgotten about. Remember that your main goal should be to purge your home of any unwanted items prior to packing – fewer items to pack and move will mean faster packing and cheaper transportation.
Spare rooms
If there are any spare rooms in the house, then you should pack them next. Guest rooms can stay unoccupied for long periods of time, so your packing focus should shift to them. Unless you've already turned such spare rooms into storage rooms, you should be able to sort and pack them fairly easily.
Kitchen
Generally speaking, kitchens are difficult to pack due to the fact that they contain a large number of miscellaneous kitchen items. Also, most things found in a kitchen are breakable – china plates, glasses, and so on. Of course, you should still keep the most frequently used kitchen items unpacked until the day before Moving day but make sure you box up everything else in the kitchen in a timely manner.
Living room
Sooner or later you'll get to pack your living room as well. Postpone the packing task for as long as you can since the living room is the place where you'll spend most of your "free" time when packing for a move. Packing your large living room furniture will be the biggest challenge for you, so consider very carefully which furniture pieces you will take with you to the new home. Bear in mind that when moving across the country, it's often cheaper (and much easier) to just discard your old furniture and buy new one after the move.
Bedroom
Your bedroom should NOT be what you pack first when moving out and the reason is crystal clear – you'll need your bed more than ever in order to replenish your energy for the next day. Again, the issue of whether you should disassemble, pack, and move your bedroom furniture should be solved early on, way before Moving day.
Bathroom
As a rule of thumb, the bathroom should be the very last room to pack simply because you'll be using it and all the items found in it all the time. Consider packing all the bathroom items one day prior to Moving day – after all, you don't want to leave packing it for the day of your move.
This is the recommended order in which you should organize the entire house packing job. However, you can still change the room packing order to suit your needs. Ultimately, it's very important that you just start packing from somewhere rather than simply do nothing, totally confused about what rooms to pack first when moving house.
Which items to pack first when moving
Now that you know the relative priority when it comes to packing the various rooms in your house, it's time to learn what items to pack first when moving. Here, the packing concept of pre-packing will guide you from Day 1.
What is pre-packing? Pre-packing means that you should consider packing up all non-essential items with priority to save time later on. For instance, you can definitely pre-pack all your winter clothes and winter shoes during a summer move without having to worry that you might need them prior to moving out.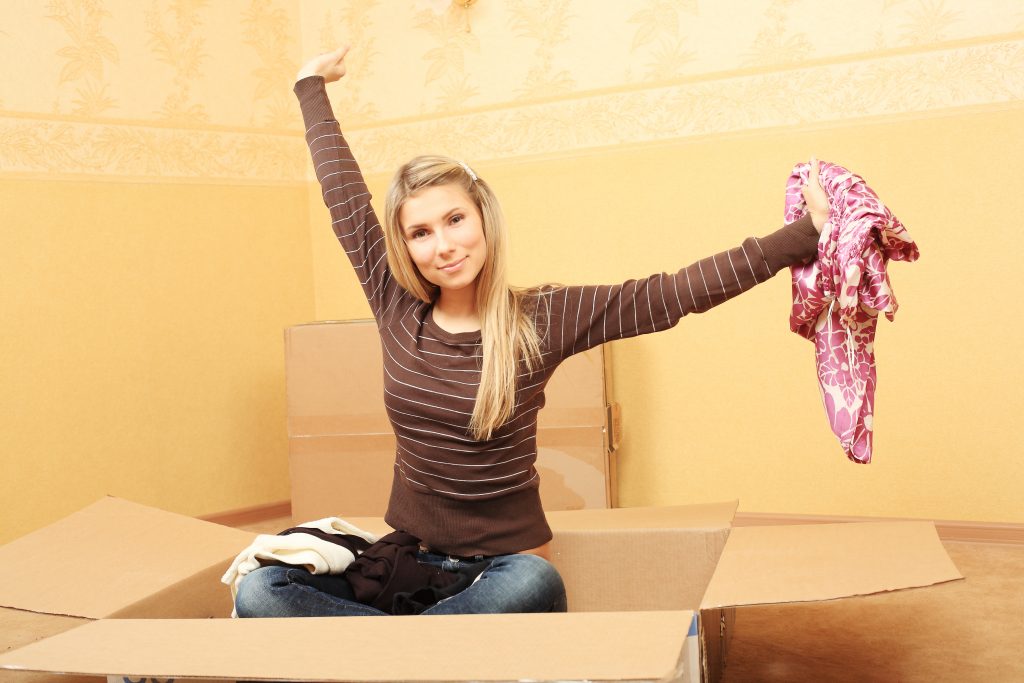 So, what are the first things to pack when moving? When moving, pack items in this priority:
Out-of-season things
Clothes and shoes
Artwork pieces
Books
Jewelry
Kitchen items
Let's dig deeper into the reasons and benefits of packing in this order.
Out-of-season things
Now, such out-of-season items are closely related to the idea of pre-packing. If you have enough time until the day of the move, then feel free to pre-pack everything that you know you won't need for sure regardless of the room order described above. In other words, keep your focus on all non-essential items that you've decided to move with you.
Clothes and shoes
What do you pack first when moving? You guessed it right – all the clothes and shoes you don't intend to use until after the move should be neatly packed up in cardboard boxes of the right size. When it comes to packing expensive designer clothes, it's best to use specialized wardrobe boxes where those valuable pieces will stay well-protected, including wrinkle-free.
Artwork pieces
Pack up all artwork pieces around the house – framed pictures, framed paintings, souvenirs, vases, and all other decorative items you're taking with you. You'll have plenty of time to enjoy them in the new home but right now, it's time to pack them safely for the road ahead.
Books
Since it's very unlikely that you'll find any time to read books while getting ready to move out, you should pack all your books and possibly magazines next. Remember that you're going to need small and strong cardboard boxes for packing your volumes because books tend to become too heavy too quickly when crammed into a small container.
Jewelry
It's not a good idea to wear any jewelry on Moving day for fear of damaging those pieces or losing them in the process. Therefore, you can just pack the valuable pieces in advance, way before the day of the move. Nevertheless, you should still leave the jewelry pieces you wear daily unpacked.
Kitchen items
One thing is certain – there will be plenty of kitchen items that you won't need until Moving day, so you might as well pack them with priority to save valuable time later.
As you can see, it's important to know which items to pack first when moving in order to manage your pre-move time in the best possible way. However, if you happen to be way behind your packing schedule, then do consider hiring professional packers to help you pack up your stuff safely and quickly.