Packing clothes for moving seems like a pretty straightforward task, and in a way, it's just that. Compared to the challenging task of packing fragile items for a move, boxing up your pieces of clothing is supposed to be much easier and safer too.
And yet, you shouldn't make the mistake of underestimating the job of packing up your clothes when moving to a new home simply because you don't want to spend too much precious time working on that specific packing task and you definitely don't want to find your expensive clothes damaged in any way after the move.
Packing clothes for moving is a step-by-step process, meaning that as long as you follow the logical stages of packing clothes, then you shouldn't have any problems whatsoever.
Make sure you use these 7 steps for packing clothes for moving in order to save time, money, and space.
Sort out your clothes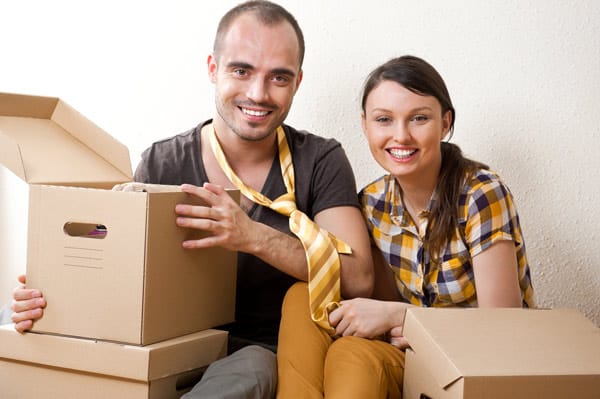 You shouldn't start packing up your belongings without sorting them out first. In other words, packing and moving all of your things is viewed as a classic moving mistake.
he explanation for this is quite simple: as time passes, some things become useless while others get broken or damaged. A person's taste and personal preferences also change with time.
Therefore, it doesn't make any sense to invest valuable time into packing clothes you won't ever wear again and pay money to transport any pieces of clothing you don't like anymore.
And this is exactly why the very first step when packing clothes for moving is to sort out your garments and figure out which pieces are worth moving to the new home and which ones are not worth the trouble at all.
Here are some examples of clothes that are definitely not worth packing and moving to a new place:
Clothes you won't need after the move;
Clothes that are already too outdated and out of fashion;
Clothes that don't fit you anymore;
Clothes that are too worn out; and
Clothes that you no longer like for one reason or another.
Get rid of the clothes you won't pack and move
What you need to know is that packing clothes for moving is a very logical process that you should be able to handle by completing one step, then moving on to the next one. So, once you know which clothes you will surely take with you, it's time to get rid of the rest.
The good news is that you've got plenty of options when it comes to discarding the clothes you won't be moving:
Try to sell the clothes that are gently used (worn only a few times) or have never been worn (if any). Add the money you earn from the sale to your moving budget.
Give some of your good clothes to your friends, especially when they are interested in any of the pieces. In fact, clothes can be great farewell gifts to your pals when you're about to move away.
Donate clothes to various charitable organizations. A simple Google search will list all the charities that accept gently used clothes in your area.
Throw away for proper recycling all the garments that are too worn out to be used again.
Get the proper packing containers
Before you can start packing up your clothes for moving, you're going to need to secure the right packing containers for your garments. All in all, here are your major options:
Cardboard boxes. Most of your clothes will be folded properly and arranged carefully into large cardboard boxes. It's actually perfectly OK to use big boxes for clothes because garments are usually lightweight and won't make the cartons too heavy to lift and carry safely. To save on packing supplies, consider using second-hand cardboard boxes that you have found for free.
Wardrobe boxes. Wardrobe boxes are specialized containers that are supposed to act as mini dressers. They are tall and have a metal rod at the top on which you hang your expensive designer clothes together with their hangers. Bear in mind that wardrobe boxes are not cheap but they do provide the best protection for your hanging clothes.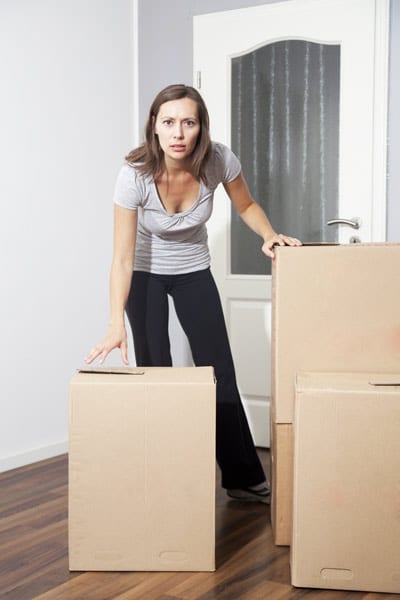 Suitcases. You can choose to pack your clothes into suitcases if you really want. However, it's better to leave much heavier items, such as books, for your sturdy suitcases.
Trash bags. If your packing time is rather limited, then the fastest way to pack clothes straight from the dresser (wardrobe) is to use strong and clean garbage bags. Read on to learn more about this unique technique for packing clothes when moving house.
Pre-pack the clothes you won't need until Moving day
It doesn't make sense to pack up any clothes that you plan to wear until it's time to move out. And this is exactly why you should set aside all the garments you do intend to use and concentrate on the rest.
One safe packing tactic is to start boxing up the clothes that you know for sure you won't need until Moving day. When moving in the summer, such pieces will be all the winter clothes you have, and vice versa.
The advantage of packing your out-of-season clothes first is that you won't have to unpack them right away once you reach the new place. You can leave them packed up in their respective boxes, waiting for the moment you have unpacked all the items with higher priority.
Pack folded clothes into large cardboard boxes
The most common scenario is to pack your clothes into large cartons. Such garments should be your everyday clothes that you wouldn't mind too much if some of them get wrinkled during the haul.
Inspect your boxes carefully – they should be perfectly clean and sturdy enough for the job.
Place a couple of sheets of clean wrapping paper on the bottom of a carton before you begin to arrange your clothes in it.
Begin to transfer your pre-folded clothes from your dresser into the large cardboard box. Arrange them snugly into the container to minimize the possible formation of wrinkles.
Leave enough space on the top of the box so that you can close the flaps without having to press down on the carton.
Close up the box when you're done and seal it well using high-quality packing tape.
Label the packed container using a marker pen. Don't write simply CLOTHES but be more specific – SHIRTS, SWEATERS, etc.
Pack hanging clothes into wardrobe boxes
Think twice before transferring your super-expensive clothes such as tuxedos and evening dresses into standard cardboard boxes. In that case, you should definitely use wardrobe boxes because they are proven to provide the best overall protection when packing clothes for moving.
A single wardrobe box costs around $15 and it takes up plenty of space inside a moving vehicle. Nevertheless, the investment is totally worth it considering the cost and value of your formal (designer) attire.
How to pack clothes on hangers? Here's how to pack hanging clothes into wardrobe boxes: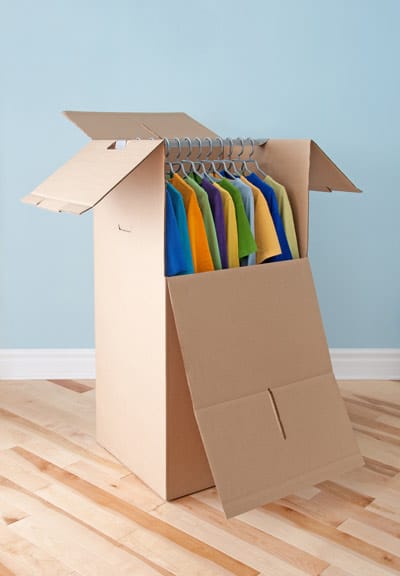 Prepare the wardrobe box by assembling it first and then securing the metal rod on the top.
Transfer your hanging clothes straight from the dresser (wardrobe) together with their hangers – that is, without removing the hangers.
Take off any plastic covers, if any, from the hanging clothes that serve as extra protection. Why? The extreme summer temperatures could potentially melt the plastic material, thus damaging your best clothes as a result.
Hang your clothes onto the metal bar in each wardrobe box but don't arrange the garments too closely to avoid damage.
Place lightweight items such as pillows on the bottom of the wardrobe box to utilize fully the available storage space. Do NOT pack heavy items in there to prevent damage.
Close up the wardrobe when ready, seal it shut using packing tape, and label it appropriately.
If you've got very little time to pack up your clothes, then you might want to consider using strong and clean garbage bags to protect your hanging clothes.
It's important to bear in mind that trash bags are pretty inexpensive and do not take much space inside a moving truck. However, they provide little protection for your garments so you should only pack ordinary, everyday clothes in plastic bags – that is, definitely not your best clothes.
Here's how to pack hanging clothes with trash bags:
Get new trash bags that are sturdy enough.
Use a cable tie to tie up several hangers with clothes still on them.
Poke a tiny hole in the bottom of a garbage bag and then insert through it the hooks of the grouped hangers.
Pull the trash bag down over the clothes until the latter get completely covered by the plastic bag.
Use packing tape to secure the garbage bags on their bottom in order to prevent dirt and dust from reaching your pieces of clothing.
If time happens to be against you and you don't really have any time to pack up your clothes on your own, then learn about the wide range of professional packing solutions offered by Great Nation Moving.