Whether you're eager to set up and decorate your new home or feel so exhausted after the arduous moving process that you don't have the energy to open a single box, you have little choice but to start unpacking.
All your belongings will be in boxes and all your larger household items will be wrapped in protective materials – it will be impossible to have a good rest, enjoy a home-cooked meal, or relax at ease until you unpack your things and make the space functional and comfortable.
But how to find the energy and motivation to unpack after moving when you're so drained and overwhelmed by your relocation endeavor? How to complete the task in a quick and efficient manner?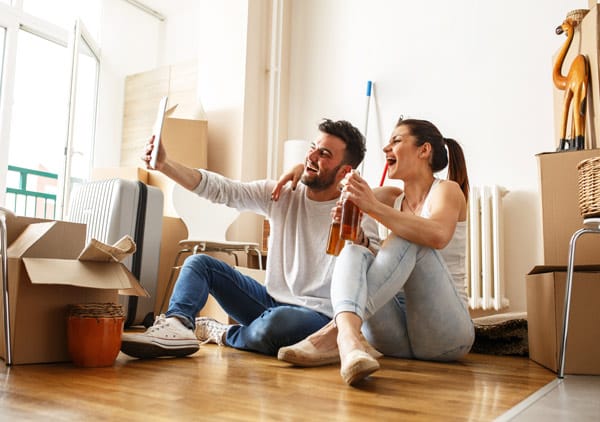 Fortunately, there are no deadlines to meet and no strict rules to observe when unpacking after a move, so the process doesn't need to be stressful or overly difficult. The sooner you complete the task, however, the better.
Read on to find out how to unpack quickly after moving, so you can make your new place feel like home as soon as possible.
How long does it take to unpack after moving?
Not only will you be tired after the move, but there will be plenty of urgent post-relocation tasks to take care of and plenty of exciting new things to experience in your new world – so, unpacking will be the last thing you will want to deal with in the first weeks after the relocation. Once you've unpacked the essentials, you'll be tempted to leave everything else for later – and some things may remain in boxes for months.
If you fall into the trap of postponing the job, unpacking can take a really long time. If you focus on the task, however, you can finish unpacking in a week or so.
How long exactly it will take you to unpack your belongings depends on several factors:
The number of boxes to be unpacked;
Whether you have unpacking help (either professional or non-professional) or not;
Your unpacking motivation and focus;
How organized you were when packing your items – unpacking will be faster and easier if you have labeled the boxes properly (so you know what room a box belongs to and what exactly is inside it), taken pictures before disconnecting electronics and appliances and while disassembling furniture (so you have visual references that will help you quickly and correctly reconnect electrical devices and reassemble furniture), made a floor plan of your new home (so you can take larger household items directly to their rightful places), etc.
How to get motivated to unpack after moving
Getting motivated to start unpacking after the exhausting, nerve-wracking relocation process is really difficult – and keeping the motivation to unpack until the task is completed is even harder. Yet, you can do it with the right strategies:
Set mini-goals – It will be easier to get down to work when you know that the task at hand will take little time and effort. And once you complete one mini-goal, it will motivate you to complete another, and then another…
Promise yourself a reward – an enjoyable activity, a yearned-for purchase, etc. – for when you complete the unpacking job. This will give you something to look forward to and will motivate you to work faster and procrastinate less;
Leave electronics for last – This way, you will have fewer distractions and greater motivation to finish unpacking quickly (so you can enjoy your favorite TV show, computer game, etc.);
Schedule a housewarming party (or some other fun event) in your new home for the second weekend after the move – You will want your home to be tidy and beautiful for the event, so you will have a great incentive to finish unpacking in time.
How to unpack fast after moving
In order to unpack your items quickly and efficiently, you need a good unpacking strategy:
1) Get unpacking help
The more hands there are on the unpacking job, the faster it will get done. So, try to secure some help:
Involve your entire family in the unpacking process – give all your family members some unpacking tasks to complete, according to their age, skills, and personal preferences. Turn it into family bonding time – play unpacking games, sing together, tell jokes, etc.;
Ask friends to give you a hand – you will complete the job quickly and easily when working together and will be able to have some fun (organize unpacking competitions, play upbeat music, share funny memories, etc.);
Use professional unpacking services – If you have specialty items that require special care or have a lot of stuff but not enough time to dedicate to unpacking, your best bet is to leave the job to the professionals. Your movers will unpack your belongings in a safe and efficient manner and will set up your home within several hours – your new place will be completely ready and you will be able to resume your normal daily routine from day one after the move.
2) Unpack essentials first
Your essentials box contains the things you're going to need immediately after arrival, so be sure to open it first.
Next, unpack the basics which will allow you to make the most important rooms in your new home (the bathroom, the bedroom(s), and the kitchen) functional and usable.
3) Position larger items first
You can't unpack and arrange smaller items until your furniture, appliances, and other major household items are all set up and ready.
So, you need to take care of your larger items first – consult your floor plan, so you know where exactly to position every piece, reassemble furniture, connect major appliances, etc.
4) Unpack room by room
The best way to unpack after moving is to unpack room by room – start from the rooms you use the most and focus on one room at a time until your entire home is unpacked and organized.
Unpack the bathroom and the bedroom(s) first, so you can take a shower and have a good rest on the first night in your new home. Then, turn your attention to the kitchen – hook up the appliances, unpack your eating and cooking utensils, pots and pans, plates and glasses, etc. Making the kitchen fully operational will probably take a few days but it's important to set up the essentials as soon as possible.
Proceed with the other rooms in the home in an order that makes sense to you.
5) Clean and get rid of packing materials as you go
As you unpack, empty boxes, torn packing paper, and pieces of bubble wrap will begin to pile up. They will get in your way and will slow down the unpacking process, so you need to get rid of them – and clean the mess – regularly.
6) Stay focused
To finish unpacking quickly, you need to keep your focus on the job:
Stay organized – Create an unpacking plan and stick to it – prioritize your unpacking tasks, decide how much work you want to finish in a day, complete the task at hand before you start another, etc.;
Leave decorating for later – Don't lose valuable time wondering about your home décor – focus on making the space practical and comfortable and leave the finishing touches for later when you will be able to take your time decorating;
Play rhythmic music – It will keep you entertained and will speed up your pace of work;
Avoid distractions – Do not watch TV or chat with friends over the phone while unpacking – you need to stay concentrated, so you can finish the job as quickly and efficiently as possible;
Do not leave for tomorrow what can be done today!