A successful house move is all about making the right decisions.
Unfortunately, some of the house moving decisions you'll have to make, often under pressure, will be much more difficult to reach than the rest and will have way more serious consequences if your judgment turns out to be poor in the end.
In other words, it's a much more serious matter to decide what to do with your furniture when moving than to come to a decision about what you should do with your pairs of shoes.
Most furniture pieces are both big and heavy, thus making their relocation to a new home a true challenge. Moving furniture across the country is difficult, time-consuming, risky, and costly, so you really have to make the right call when it comes to taking your furniture with you when moving out.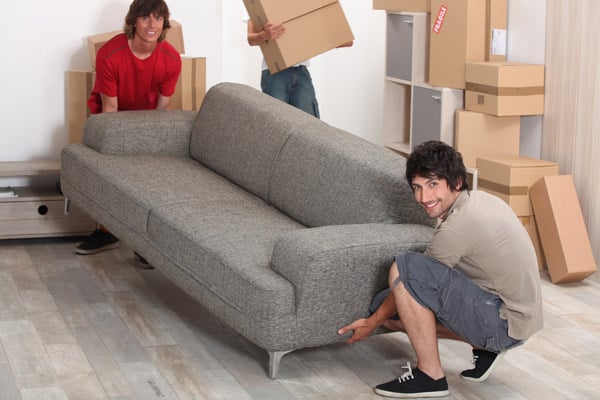 Should you move your furniture items with you or should you just leave them behind?
And if you choose not to move your furniture, what are you supposed to do with those bulky pieces?
Read on to learn what to do with furniture or you can call us right now at (800) 403-7552 to discuss your moving.
Should you move your furniture?
When it comes to moving your furniture pieces, the most important decision you must make early in the relocation process is whether you should bother hauling those bulky items at all.
NOT moving any furniture will let you save time, money, and stress.
Time. All the steps of moving furniture to a new home – disassembly, protection, taking it outside, loading, unloading, and taking it inside – will require a serious amount of time to complete, especially the furniture disassembly process. NOT moving your furniture will free up many hours if not days of your time.
Money. Moving furniture across the country will cost you money, sometimes (much) more than what the furniture pieces are actually worth. Also, the packing materials you'll need to protect your units – mostly furniture blankets – won't be free of charge either.
Stress. Just taking a quick glance at your huge and super-heavy furniture items can really stress you out because you know that their transportation will be as challenging as it gets.
On the other hand, parting with your furniture pieces can prove to be a mistake since you'll need to purchase brand-new furniture after the move – which is a serious expense in itself – and you'll have to spare the required time to shop for new furnishing items too.
And when it comes to priceless antique furniture pieces that have been handed down from generation to generation, then NOT moving those antiques is surely out of the question.
Is it worth moving furniture across the country? The answer to this question remains strictly personal and you're the only one who can provide the right reply.
Ultimately, you've got 2 options before you: to move your furniture pieces to the new place or not to move your furniture items.
Option 1. Move the furniture pieces that are worth moving
Look at your decision about whether to move your furniture as an investment – you want to make sure you don't waste both your money and time for no good reason.
Go through your furniture pieces and figure out what to do with each one depending on these critical criteria:
Practical value. Just how practical and useful is the furniture unit?
Monetary value. How much did the furniture piece cost you when you first bought it? Did you buy it brand new or did you purchase it second hand? Is it an expensive piece made from high-quality materials or is it a generally inexpensive ready-to-assemble one like IKEA furniture?
Sentimental value. Does the piece have any sentimental value for you? Or is it just another piece of furniture that you don't really mind parting with?
Size. Just how big is the furniture unit? Will it fit ok in the new place? The larger a unit is, the more complicated it is to take it with you.
Condition. The current condition of each furniture item is what will usually break or make the deal for you. You're much more likely to go through the trouble of moving a furniture piece that you know you will use for years to come thanks to its excellent condition.
Once you make up your mind that it's worth moving your furniture items, or at least some of them, then follow these logical steps to make it happen:
Disassemble, if necessary, the large furniture pieces you're moving with you. If you're not sure how to dismantle your furniture safely, consult the assembly instructions and work your way backward. Get in touch with reputable furniture movers if you still have problems.
Protect each disassembled furniture element individually using thick furniture blankets (furniture pads) and sheets of bubble wrap whenever necessary.
Move the protected furniture units out of your place using a furniture dolly and the necessary manpower.
Load the furniture items onto the vehicle outside using the loading ramp. Secure the units to the side of the truck with the help of rope or straps.
Feel free to get in touch with professional furniture movers in case you need help during any step of the furniture moving process.
Option 2. Don't move any furniture items that are not worth it
If you reach the conclusion that your furniture items are not worth moving because they have failed to meet the major assessment criteria explained above, then here's what you should do with unwanted furniture when moving.
Sell your furniture
Without a doubt, the best way to get rid of furniture when moving is to sell it, either at a moving sale or online. After all, you've probably paid more than enough for those furniture items so now it's time to get back some of the initial investment.
Proper pricing is the key to selling quickly all the furniture pieces you've decided not to take with you. Even if it feels like you're losing money by offering those units for much less than what you paid for, a quick calculation of what you'd have to pay to transport those bulky items is enough to assure you that you're doing the right thing.
Give your furniture to friends
What to do with the furniture you don't want anymore?
If you don't feel like going through the hassle of trying to sell the furniture pieces you're not moving with you or you don't really have time to organize a moving sale or post your items online for sale, then another good option is to give those pieces to friends.
Decide beforehand whether you'll give away your furniture for free or whether you'll offer it at a great discount. It'll probably depend on how close you are with those people – you should never ask for money from your best buddies but you could still get some dollars from your not-so-close neighbors.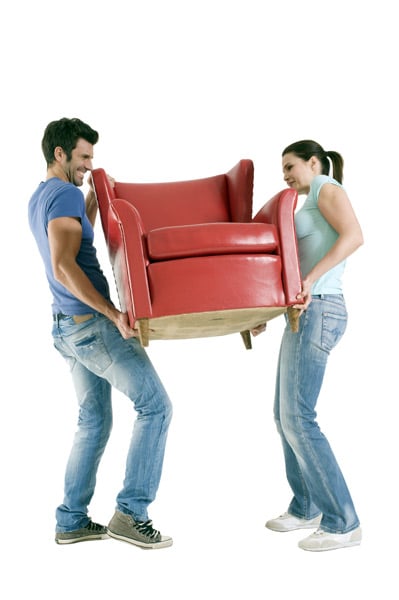 Donate your furniture to charity
Another thing you can do with the furniture you no longer want is to donate some of the pieces to charitable organizations. The good news is that there are non-profit organizations that will be willing to come and pick up the furniture units straight from your home.
A quick Google search should give you the names of local charities that should be interested in collecting your furniture donation. Make sure the furniture you're offering to charity is in good overall condition to avoid going through any awkward situations.
Give away your furniture to strangers
Sometimes the only good option to get rid of furniture before moving is to give it away to complete strangers.
Maybe you couldn't sell the unwanted furniture and none of your friends was interested in it. Also, some charitable organizations can be quite picky about the furniture pieces to be donated, so the option of just gifting your furniture units to whoever wants to pick them up might work out great for you.
List your unwanted furniture on Freecycle.org and the free stuff section at Craigslist.org – after all, it's just not right to throw away furniture pieces that can still be used for many years. As a bonus, you'll know that you've done something good for the community.
Throw away your furniture for recycling
If you're out of good options, then the only sure way to get rid of furniture when moving is to dispose of it in an eco-friendly way.
You shouldn't just take those old furniture items to the side of the street and leave them there – if you do, you'll run the risk of being fined for inappropriate furniture disposal.
Instead, contact the local waste management company or the local recycling center to get more information about the best way to dispose of old furniture when moving out. Sometimes you may need to hire a furniture removal service to get rid of your used furniture before moving away.