When moving house, you will, of course, want to make the process as cheap and easy as possible – and one of the best ways to make your move cheaper and easier is to pare down your belongings before the relocation.
Moving all your earthly possessions to your new home will cost you a lot of time and effort (the more goods you have for moving, the longer packing, loading, unloading, and unpacking will take and the more difficult they will be) – and a lot of money (moving costs are based on the weight of the shipment – and the more stuff you're moving, the heavier your shipment will be).
So, to save money on your move and make it easier, you need to lessen the load – sort out your belongings and get rid of everything you don't need or don't really like.
Your best option is to hold a garage sale – it will not only help you unload your unwanted items before the move, but will also bring you some extra cash for your forthcoming relocation.
To make the most out of the event, however, you need to know how to organize a moving sale the right way.
How to prepare for a garage sale
In order to have a successful moving sale in Maryland you need to prepare really well:
Prepare your items for sale
Sort out the items you intend to sell and group them according to their type and condition (needless to say, damaged and worn out items should be thrown away);
Make sure all items are clean and look as good as possible;
Price your items wisely – When holding a garage sale before moving, you have two purposes – to get rid of as much stuff as possible and to make maximum profit out of that stuff. Therefore, you need to be careful not to overprice your items (they won't sell) or underprice them (the sale won't be worth it). Generally, it is a good idea to price things at about 10%-25% of their current retail price – depending on their condition and the demand for them. Set slightly higher starting prices (about 25% above the minimum you'd accept) to leave room for haggling. Be careful not to underestimate the value of collector's items, vintage items, and works of art;
Make an inventory of the items you're going to put up for sale and their corresponding prices.
Organize your moving sale
Decide where to hold the sale – If the weather allows it and there is enough space, you can have a yard sale – it's your better option as the event will be more noticeable, it will be easier to display your items, and there will be ample room for people to walk around and look at your goods. If the weather or the available space is not appropriate for a yard sale, you'll have to host your moving sale inside your garage;
Decide when to hold your sale – It is usually best to have a garage sale during the weekend – if possible, the first weekend of a month, shortly after payday. If you live near a busy street, however, it may be better to schedule your sale for a weekday in order to take advantage of the road traffic;
Check whether you need a permit to hold a yard sale and if so, get it well in advance.
Advertise your moving sale
Your garage sale will only be successful if a lot of people come to it – and in order to come, people need to know about the event. In other words, you need to advertise your sale.
But how to advertise a moving sale? You have several options: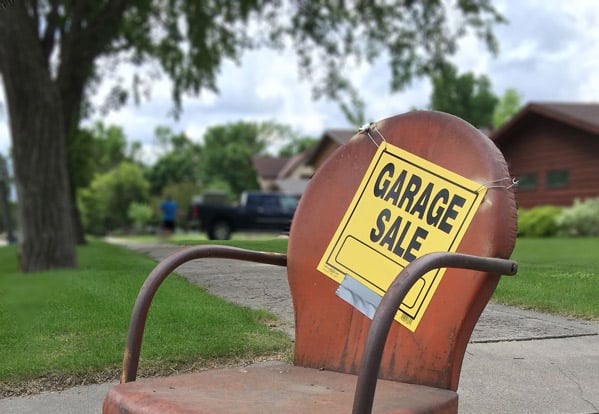 Word-of-mouth – Tell all your friends, co-workers, and neighbors about your upcoming moving sale, invite them to come over, and ask them to pass on the information to their friends too;
Internet – Use social media and specialized sites like Craigslist and Garage Sales Tracker to advertise your sale (be sure to include a photo of a desirable item with its low price attached);
Local newspaper – Place an ad in the local newspaper, so that the news of your moving sale reaches as many people in your area as possible;
Posters and signs – Make posters and signs that catch the eye (use bright colors and creative designs) and place them around the neighborhood. Be sure to include the address, date, and starting time of the sale event – use big bold letters so even drivers passing by at a high speed can catch the important information.
How to have a successful moving sale
When you have prepared properly and organized your moving sale well, it will be easy to ensure a smooth, profitable event – just be sure to follow the expert garage sale tips below:
Make the sale area attractive
Create a pleasant, welcoming atmosphere that will attract people, will make them feel at ease, and will entice them to hang around for longer – place flower pots here and there, tie up some colorful balloons, play relaxing background music, etc.
Display your items in a logical and inviting manner
Make sure visitors can see all your goods and can easily find what they're interested in – group like items together, arrange smaller objects on tables or shelves, display books, magazines, CDs, and DVDs so the titles are visible, hang clothing items so they look presentable and can be easily examined, etc.
Be a smart seller
Try to make your visitors feel comfortable and encourage them to hang around and check out everything that catches their eye – greet people as they arrive, be polite and friendly, answer questions in detail, point out the positive aspects of your goods, and don't lose your temper when you get tired or irritated.
Remember that garage sale visitors are looking for bargains and be ready to haggle and make discounts.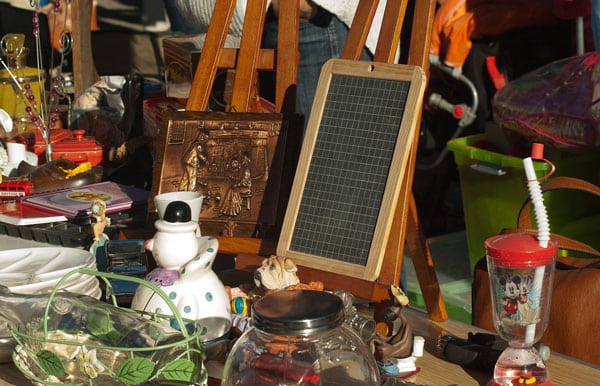 Keep in mind that you will sell more if you sell in bundles and offer bulk prices (so people feel like they're getting a bargain).
Make things easier for potential buyers
Do your best to ensure quick and easy sales:
Prepare an extension cord and have some batteries at hand so people can test out electrical items, electronic devices, power tools, etc.;
Label your goods clearly so people know how much an item costs as soon as they look at it – Label more expensive items individually – use stickers, masking tape, or price tags and write the asking price in big bold numbers. Put cheaper items that cost the same in a large box or on a separate table (or rack) and put a big sign with the price on the box/table/rack;
Use a calculator to quickly – and correctly – add up the total when someone buys several items;
Prepare plenty of change;
Have some old newspapers at the ready to wrap fragile items for your customers;
Prepare plastic bags, paper bags, and/or boxes of different sizes to put multiple purchases in.
Organizing a successful garage sale before moving will allow you to turn your unneeded items into cash and ensure an easier, more affordable relocation – and your new life will be free of clutter. It's certainly a win-win.