Moving is stressful for everyone – even for pets. The hectic moving preparations disrupt their daily routine and they get nervous and anxious. Then moving day comes and things become even worse – pets get confused and scared by the unusual activities and unfamiliar people going in and out of the house and can easily get hurt or escape in the chaos. The trip to the new home is quite stressful too, especially if the animals are flying to the destination location – or if they're entrusted to pet movers. The biggest challenge, however, comes after the move – pets often feel disoriented and fearful in the unfamiliar environment and it takes time and care for them to adjust to the new home
If you're a dog parent, you know how sensitive your furry friend is and how stressful – and dangerous – moving can be for them. To ensure your pooch's safety and well-being during this transitional period, you need to find a way to keep them calm and out of harm's way, transport them safely to your new place, and make them feel comfortable in the new home.
Here are some expert tips for moving with a dog to help you achieve all this: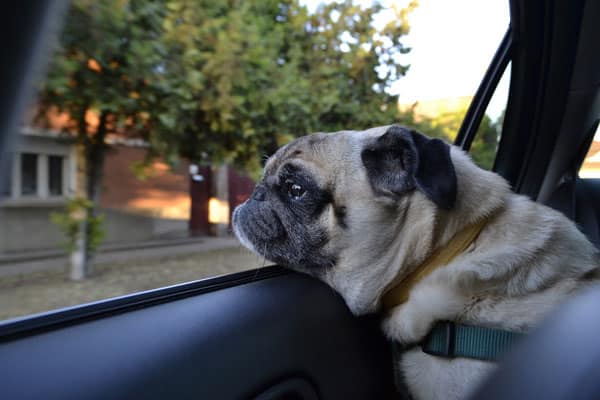 Keep your dog's routine unchanged
Dogs are creatures of habit – they feel calm and safe when they have a predictable routine. Therefore, it's very important to try not to disrupt their set routine during the move.
Your furry friend will immediately notice any change in schedule, behavior, or attention and will get upset and uneasy, so as busy as you may be with moving preparations, you need to do your best to maintain your dog's usual routine – feed them at the same time you usually do, take them out for a walk as usual, play with them as often and for as long as you normally do, etc.
It will give your pooch a sense of security and will help reduce the confusion and anxiety brought about by the unusual activity in the house and the sight of moving boxes all around the place.
Take your dog to the vet
If you're moving locally, the trip to your new home will be short and won't pose any health risks for your dog. Besides, you won't need to worry about different pet-related requirements, finding a new vet, or transferring medical records.
When moving cross country with a dog, however, you need to make sure that your pet is healthy enough for the long trip and that you have all the necessary documents.
So, you're advised to take your pooch to the vet shortly before the move and have your furry friend fully checked up and vaccinated according to the requirements in your new state. Don't forget to retrieve all your pet's medical records and ask about anti-anxiety meds, car sickness medications, and sedation. Use the opportunity to ask your vet for recommendations for a good veterinarian in your new area as well.
Have your dog microchipped
Your dog may get very confused and scared on moving day – or after arriving in the unfamiliar new home – and may try to escape. If they manage to get out of the house, it may be very difficult to find them – unless they have a microchip.
A microchip will greatly increase the chance of reuniting with your furry friend if they go missing during or after the move, so it's crucial to have your dog microchipped before the relocation.
Prepare an essentials box for your dog
Even if you're moving locally, it will be very handy to have your dog's essentials packed separately, so you don't have to rummage through your boxes to find what you need to tend to your pet's needs after the exhausting moving day.
When moving long distance, however, it's imperative to prepare an essentials box for your dog – so you can take proper care of your dear pet during the long trip and the first couple of days in your new home (until your shipment arrives and you unpack your items).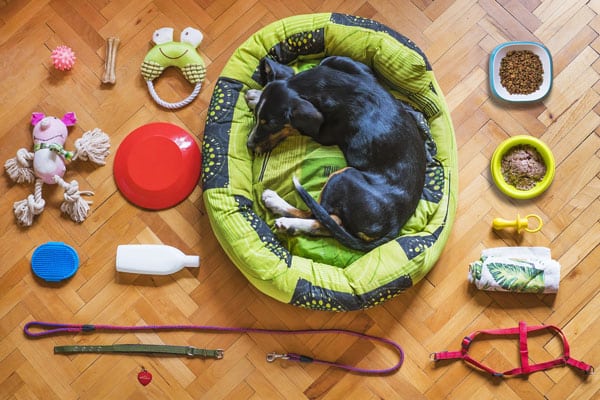 Your pooch's essentials box (or bag) should contain a few days' supply of dog food, Fido's food and water bowls, their favorite blanket, some of their favorite toys, basic grooming tools and cleaning supplies, a leash or a harness, any necessary meds, and any other items you think your furry friend may need in order to stay safe, healthy, relaxed, and happy during the move and the first several days in the new home.
Make sure your dog's essentials box doesn't get accidentally loaded on the moving truck – it should travel with you and your pooch.
How to pack an essentials box for moving
Keep your dog safe on Moving day
Moving day is the most hectic, stressful, and dangerous part of the moving process – and your dog has absolutely no business running around the house on that day:
There will be a lot of noise, a lot of hustle and bustle, and a lot of unfamiliar people going in and out of the house – it will be extremely stressful for your furry friend;
The movers will be taking things out of your home, so the door will stay open for long periods of time – it will be very easy for your scared pet to bolt out the door and escape;
Your pooch may get in the movers' way and cause an accident – or get hurt;
In their confusion and anxiety, your dog may get aggressive towards the strangers in your home – and may scare, or even attack, someone.
To reduce the stress for your canine friend and prevent accidents and escape attempts, you need to keep your dog away from the moving chaos.
It's best to ask a family member, a friend, or a neighbor – someone your pet is familiar with and enjoys staying with – to take Fido to their house on moving day and look after them until you can pick them up and take them to your new home.
If leaving your dog with someone else is not an option, you're advised to keep Fido in a safe and quiet room, away from the moving activity. Make sure everything has been moved out of the designated room in advance, your dog has everything they need (food, water, bedding, toys, etc.), and all windows and doors are securely closed. Put a sign on the door alerting people that your dog is inside the room, so they shouldn't enter. Check on your pooch from time to time to make sure they're ok, give them a treat, and reassure them that everything is fine.
Make sure your dog is wearing a collar with your contact information at all times – just in case.
Common moving day mistakes to avoid
When everything is ready and the movers depart with your items, it's time for you – and your family and your pet – to embark on your moving journey and get to your new home.
But how to move with a dog?
Transport your dog in your car
The best way to move house with a dog is to transport your pooch in your car with you – so you can take proper care of them and ensure their safety along the way. Besides, your pet will be calmer because they will be with you and your family all the time.
If you're moving locally, the trip will be very short, so you will only need to make sure that your dog is safe in the car (it's best to use seatbelt harnesses).
When moving with a dog across the country, however, you need to take some extra precautions:
Book pet-friendly hotels along the way – If the trip to your new home is going to take more than a day, find some conveniently located pet-friendly hotels and book your stay in advance – so you have a safe place where to spend the night together with your pet;
If necessary, give your dog anti-anxiety meds and/or car sickness medications. Consider using a calming pheromone spray in the car to help your furry friend relax and stay calm during the trip;
Get your dog into the car last, just minutes before the departure;
Secure your pet with a seatbelt harness – or keep them in a travel carrier (secure the crate to the backseat with a belt, make sure nothing can fall over it, and keep it away from direct sunlight);
Stop for a rest every two hours or so – take your furry friend outside for some fresh air and a short stroll (keep them on a leash all the time), give them water and treats, and play with them for a while;
Never leave your dog unattended in the vehicle!
Bonus tip: If you'll be flying to your new city, you won't be able to transport your dog in your car. Yet, in most cases, you'll be able to take Fido on the plane with you:
Check airline pet policies – find out which airlines will allow your dog on the plane, whether your pooch will be able to travel in the cabin or will have to fly in the cargo hold (most airlines allow smaller dogs to travel in the cabin, as long as their crate fits under a seat), what documents are required, etc.;
Choose the best air carrier for your needs and book your flight well in advance;
Get a suitable pet carrier (your furry friend will be allowed on the plane only in an appropriate carrier that meets the specific requirements of your chosen airline company) and label it with your dog's name and your name, telephone number, and final destination;
Use natural calming products, anti-anxiety meds, or mild sedatives to reduce your dog's anxiety before and during the flight.
If neither of the above options works for you, you can hire specialized pet movers to transport your dog across the country.
Make your dog feel comfortable in your new home
When you reach your new home, your dog may be confused and scared at first – everything will be strange and unfamiliar and Fido will need some time to get used to the new environment. Fortunately, there are many things you can do to make your furry friend feel comfortable and safe in the new place.
Here is how to help a dog adjust to a new home: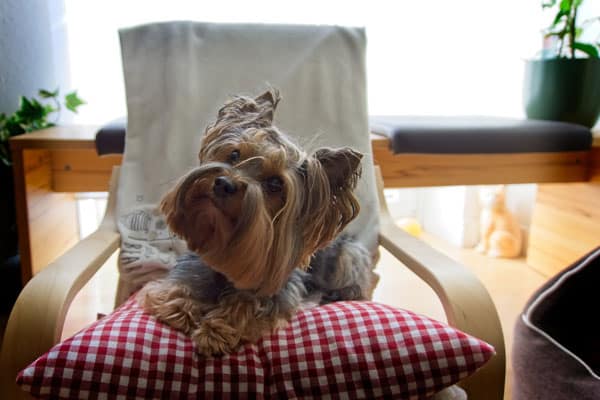 Take your pooch to a safe room in the new house as soon as you arrive. Give Fido fresh water and quality food and take out their bedding, their toys, etc. The familiar items will provide a sense of security and will help your pet relax;
Keep your dog in the safe room for a few days until they've calmed down and you've finished unpacking and pet-proofing the home;
Let your dog explore your new home at their own pace and get accustomed to the new sights, smells, and sounds;
Re-introduce your dog's old routine – try to feed your pooch, take them out for walks, play with them and get them ready for bed at the same times as you did in your old home;
Spend as much time as possible with your dog and show them how much you love them.