When the time comes to move out, you wouldn't even think about leaving your favorite TV set behind. After all, your TV does not only provide hours and hours of pure entertainment – it is also an expensive piece of electronics and as such, it represents a considerable investment on your part that you would very much like to keep intact when moving from one place to another.
When the packing action moves into the living room, you're going to have to pack your TV properly so that it stays perfectly protected until it reaches the new place. What you should keep in mind is that packing a TV for moving is a bit tricky for a number of valid reasons:
· Flat-screen TVs are big – the most common TV sizes are 32", 43", 55", and 65";
· Modern LED TVs can weigh anywhere from around 10 pounds for a 32-inch model up to 60 pounds for an extra-big 70-inch model. Older plasma TVs are heavier – they usually weigh between 80 and 100 pounds.
· Big screen TVs cost a good deal of money, so you want to make sure your TV set doesn't get damaged during the house-moving process.
So, how to pack a TV to move? The packing steps below will show you the best way to pack a TV for moving so that it reaches the new home in the same condition that it left the old one.
Step 1. Secure the necessary TV packing supplies
The very first step when packing a TV for a move is to ensure you have the proper packing materials to complete the job in the best possible way. Don't forget that TVs are fragile electronic devices that are very susceptible to transportation damage. Their flat screens are especially vulnerable and you should do all in your power to provide sufficient padding to keep them intact.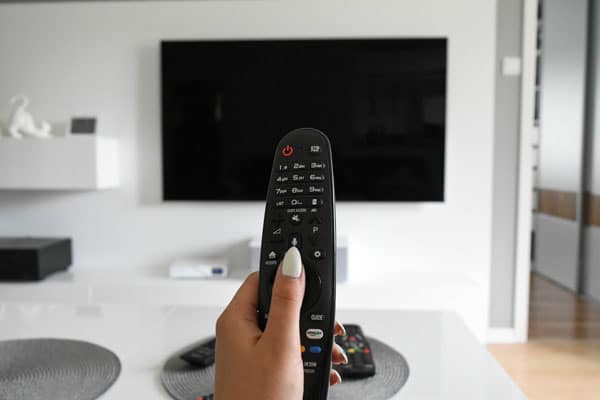 Here are the packing materials you will need to pack your TV when moving to another home:
 A cardboard box. Ideally, you will keep the original box that your TV came in when you bought it from the store. Original boxes are not only the right size for your electronic piece of equipment, but they are also extra sturdy and have Styrofoam inserts to keep the TV immobilized inside the container.
Cardboard pieces. You're going to need several large sheets of thick cardboard for protecting the TV screen. Such pieces of cardboard are easily attainable by flattening out a big cardboard box.
Foam sheet. Get a soft foam sheet that's large enough to cover the TV screen.
Bubble wrap. Make sure you buy anti-static bubble wrap that's designed to protect fragile electronics that could potentially get damaged by static electricity.
Moving blankets. A few thick furniture blankets will help you protect your flat-screen TV for the upcoming move.
Tape. You're going to need painter's tape (aka masking tape) and regular packing tape to finish the TV packing job successfully.
Step 2. Prepare your TV for packing
Next, you should prepare your TV to be packed safely for the road ahead. Follow these steps to ensure your electronic device is ready for packing:
Take a few photos of the way any peripheral device such as a sound system, a video player, a game console, or a satellite receiver is hooked up to the TV set. This way, you'll be able to reconnect all cables properly when you're setting up your flat-screen TV in the new home.
Unplug all cables from the TV, label them appropriately using pieces of masking tape, if necessary, coil them up carefully using a twist tie, and pack them together with their corresponding devices.
Unplug and secure the power cord of the TV itself. If the cable is attached to the device and cannot be removed, then fold it carefully, secure it with a twist tie or a rubber band, and tape it to the back of the TV with the help of some masking tape.
Dismount your TV in case it is mounted on the wall. Unhook it carefully from the TV wall mount and place it gently on the floor for the next step. Then, remove the wall bracket by referring to its assembly instructions. Make sure you have a helper during this critical step.
Remove the TV stand in case your TV set is placed on a piece of furniture. Again, have somebody to help you complete this step safely.
Clean the screen of your TV using a specialized screen cleaner and a soft microfiber cloth. Then, wipe down the entire case of the device with a soft cloth.
How to Pack Fragile Items for Moving
Step 3. Pack your flat screen TV for moving (inside its original box)
Once you have provided the necessary packing materials and prepared the large piece of electronics for packing, it's time to learn the best way to pack a TV for moving.
Protect the fragile TV screen by placing the large foam sheet over it in order to create an initial layer of soft padding. Use painter's tape to secure the foam padding.
 Position a large piece of thick cardboard over the foam padding to make sure the screen of your TV is perfectly safe throughout the move. If the screen is too big, attach two pieces of cardboard to match its size. Secure the hard-shell cardboard protector with masking tape.
Transfer the flat-screen TV into its original box. Do it carefully, don't let the device just drop to the bottom of the carton for fear of damaging it. Position the Styrofoam inserts correctly to fix the TV in place, not allowing it to shift around during transport.
Wrap the remote control in soft packing paper and place it inside the TV box as well. Also, do the same with the power cord and any small TV accessories available.
Add soft padding materials if you notice that there are big gaps inside the box and the TV is able to move around. Pieces of crumpled paper, pieces of bubble wrap, or a couple of towels should do the trick.
Close the lids of the TV box and seal it shut using strong packing tape.
Tips for Packing Electronics for Moving
Step 4. Pack your TV for moving without a box
As mentioned above, the original box will provide the best level of protection for your fragile electronic device. However, there's a chance that you don't keep that cardboard box or that you do have it but it's been damaged due to improper storage through the years.
If that's the case, then you have two options available to you: 1) contact the largest electronics store in your city or town and ask them if they have a box suitable for your TV size, or 2) pack your TV for a move without a box.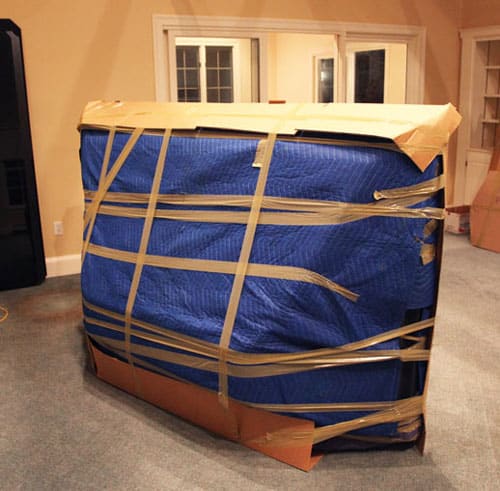 The idea when packing a TV for moving without the original box is to create two layers of protection: an initial soft one and a second hard-case one that will go over the first padding.
Read on to learn how to move a flat-screen TV without a box:
 Protect the TV screen as described above: place a foam sheet over it, then place a cardboard cutout on top of it for added protection.
Wrap the entire TV set in several soft furniture blankets, then use packing tape to secure those padding blankets.
Wrap the TV in large sheets of anti-static bubble wrap that will come over the soft padding layer that moving blankets provide. Fix the bubble wrap sheets with tape.
Create a final hard protective shell around the fragile device using several cardboard sheets. Again, tape the cardboard securely around the TV.
Pack all TV cables, remote control, and other TV accessories separately in a medium-sized box.
And you're done! Your flat-screen TV should be adequately protected once you've followed the above TV packing steps.
Packing a big TV for moving is not too hard but the packing process requires a good deal of preparation and takes time. If you feel nervous about packing your precious TV by yourself, then let professional packers do what they do best.