Moving to a new home can be a fairly expensive affair, especially when it's an interstate move across the country. And because your hard-earned money will be on the line, your main goal should be to pay as little as you possibly can.
Luckily, there are numerous tactics to lower the moving price. The best one is to hire the services of an affordable moving company, followed by the proven cost-saving technique to slim down the number of items you're moving with you.
When it comes to the tough task of packing for a move, the best way to save money is to pack up by yourself everything that you know you can pack safely, thus not having to pay for professional packers. And right then and there comes another great way to cut packing costs – to use free moving boxes!
After all, why pay for something when you can get it for free, right?
Read on to learn where to find free moving boxes for most of your packing needs.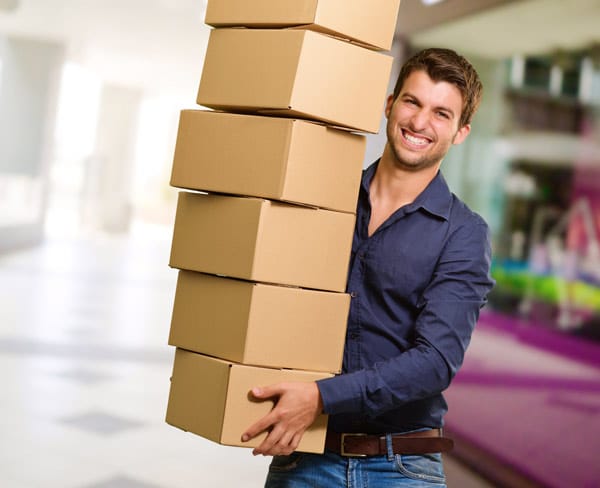 Is it worth using free moving boxes?
Before you even begin your hunt for free moving containers, you have to be sure that the whole idea of obtaining packing supplies for free is worth your time and effort. The thing is that those free cardboard boxes won't come to you – instead, you will have to go to them.
Can you spare the necessary time to go look for free packing boxes? This is not always a good idea, especially when you only have a few days to prepare to move out.
Also, will you be willing to invest some gas money into the project since you'll most likely need to go pick up those free boxes with your own automobile?
The right answers to these two questions will be strictly individual. What you should know though is that the average number of boxes to pack a home is roughly 60.
And considering that a brand-new medium box costs around $2 while an extra-large cardboard box goes for around $3, then you can do the math and decide for yourself whether or not it's worth looking for free moving boxes.
What types of free cardboard boxes to look for?
It's always a big bonus to get something without having to pay for it. In your case, getting free moving boxes can help you lower the packing costs by a few hundred dollars – a fact that you should welcome considering the high overall cost of moving.
However, you should bear in mind that because you can get your hands on free packing boxes doesn't necessarily mean that you should accept all of them regardless of their condition. The thing to remember here is that cardboard boxes of substandard quality (some of the second-hand containers you will find) can potentially jeopardize the overall safety of the relocation process.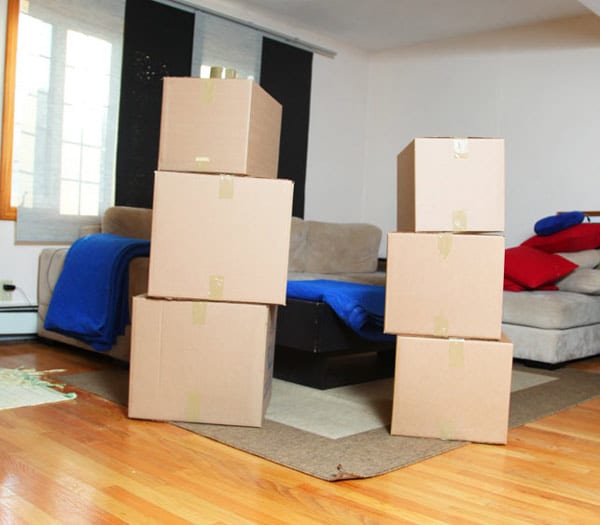 Therefore, when you get the chance to score free moving boxes, do take the time to inspect each one carefully before you OK it for your packing needs.
Here are the major criteria that free moving boxes should meet:
Strong. The boxes you pick should look AND feel sturdy enough without any visible damage – no holes, no torn or ripped pieces, and no weak spots either. The cartons should not have any signs of water damage and all their 4 flaps (lids) should be there.
Clean. Brand-new boxes are perfectly clean while second-hand ones are not because they have already been used before to transport all types of things. So, be extra careful when it comes to the general cleanness of the boxes you choose – they have to be clean enough for your packing needs. If you suspect that they are not as clean as you need them to be, then don't risk taking them.
 Dry. When you're looking for free moving boxes, you have to make sure they are perfectly dry before you agree to take them. Also, inspect them closely for any signs of pre-existing water damage such as wet spots or mold growth on them. Reject any boxes that seem suspicious to you despite the fact that they come at no charge for you.
Where to find free moving boxes
Now that you know what kinds of moving containers to look for, it's time to learn where to get free boxes for moving. All in all, there are 4 major sources from which you can obtain free moving boxes: 1) friends, neighbors, and co-workers, 2) online, 3) local retail stores, and 4) local recycling centers.
Friends
The easiest way to get free moving boxes is to ask your friends, including neighbors and work colleagues, if they happen to have any cardboard boxes at their homes that they don't really need.
People often decide to store fattened-out boxes in their garages or in other storage areas just in case they might need them for moving. However, such a move never comes around and such boxes just stand there doing nothing while their overall strength lessens over time.
Also, some of your friends may have moved house recently so they must still have good cardboard containers at their disposal. Or they may know somebody else who's just moved, so with a bit of luck, you should be able to score even more boxes for free than you actually need.
A quick Facebook post in the likes of HELP! I'm moving and I need boxes. can work wonders for you.
Online
When it comes to places to find free moving boxes for your next move, the Internet can be a good source as long as you know where to look.
First of all, you should try Craigslist because the website has a Free Stuff section where you can look for cheap or free moving boxes. Be sure to set the location to be very close to where you are to avoid any extra transportation expenses and to avoid losing too much time in the hunt.
Secondly, take a look at Freecycle – a specialized website with the goal of keeping still useful items away from the city dumps. In fact, any items posted on Freecycle are exchanged freely among the users, so you do have a chance of finding free moving boxes near you.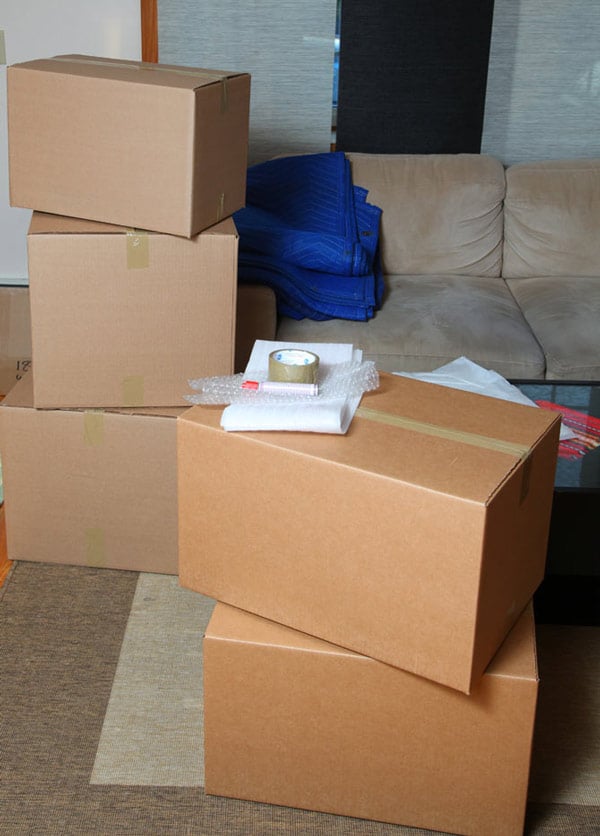 And thirdly, BoxGiver is a website where you can find free moving boxes under its FREE section. With a bit of luck, somebody near you will be offering tons of boxes you can have for absolutely nothing, and that's exactly what you're looking for, right?
Retail stores
Another great way to score cardboard boxes for free is to visit the largest retail stores in your city or town and speak with their respective managers about whether you can have some of their cardboard containers for free.
The important thing to understand is that there's nothing shameful about asking large stores for cardboard boxes. At the end of the day, they are supposed to recycle the containers they no longer need so the truth is that you'll be doing those businesses a favor by taking some of the cartons for yourself.
Those big stores get scheduled deliveries of goods so their managers may ask you to come again at a specific hour to get as many free boxes as you need. And if you happen to have enough time to do so, then you should definitely be able to lower your packing expenses.
Here's a list of the stores where you have a good chance of finding free moving boxes:
Large supermarkets
Shopping centers
Home electronics stores
Bookstores
Liquor stores
Copy centers
Recycling centers
If there's a recycling center near you, it's usually worth checking whether they can offer you some good cardboard boxes – for free, of course. However, you should keep in mind that those are the boxes that people have discarded so you have to be extra careful when inspecting the cartons for any signs of damage, including an infestation of any kind.
Getting cardboard boxes for free is great but you should also take into account the time and possibly gas money you'll waste looking for those containers. In addition, packing an entire home for moving is hard work from start to finish, meaning that you may not have the time or the skill set to protect your items in the best possible way.
Great Nation Moving offers high-quality professional packing services and our experienced packers will arrive at your home with the necessary packing supplies, including all the cardboard boxes required to keep your prized possessions perfectly protected during transport.